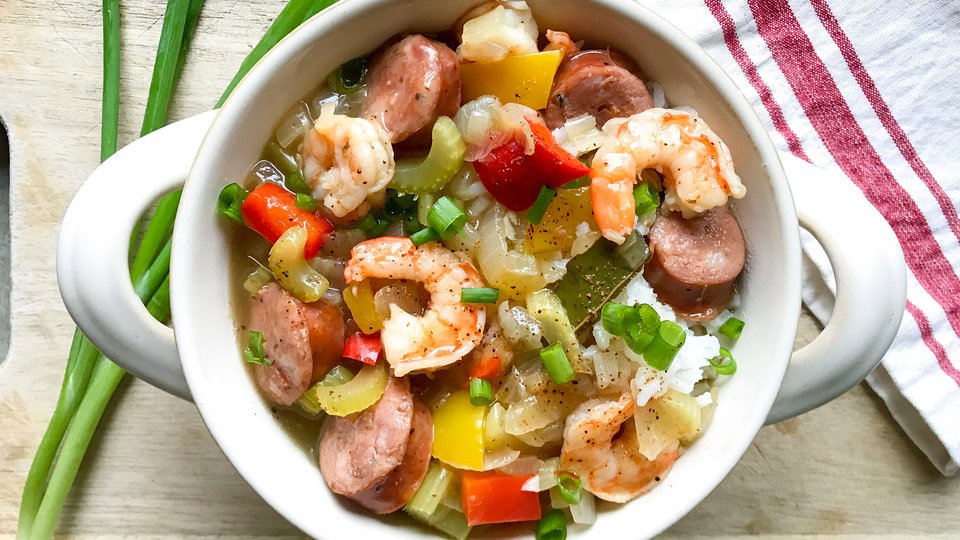 This Creole-inspired dish is loaded with andouille sausage, plump shrimp, onion, peppers, and okra in a flavorful onion broth with a hint of tomato and just a little heat.
Ingredients
1 lb small shrimp, peeled and deveined
8 oz smoked sausage, cut into 1/4-inch slices
1 tbsp olive oil
1 cup onion, finely chopped
¼ cup flour
6 cup low-sodium vegetable broth
3 stalk, medium stalk celery, finely diced
3 clove garlic, minced
1 cup green pepper, chopped
1 tbsp tomato paste
1 tbsp worcestershire sauce
2 bay leaf
1 tbsp salt-free Creole seasoning
3 cup okra
½ cup green onion, chopped
Directions
Thaw shrimp in fridge overnight, or place bag in lukewarm water for an hour until thawed through.
Brown the sausage in the bottom of a large saucepan or soup pot with oil and onions over medium-high heat.
Add flour and stir to coat evenly.
Add broth, celery, garlic, bell pepper, tomato paste, Worcestershire, bay leaves, and Creole seasoning (like Tony Chachere's). Simmer over medium heat for 15 minutes, stirring occasionally.
Add okra and cook for 5 minutes until softened.
Add shrimp with juice from bag and simmer briskly for 2 minutes.
Serve hot over rice and garnish with green onions.