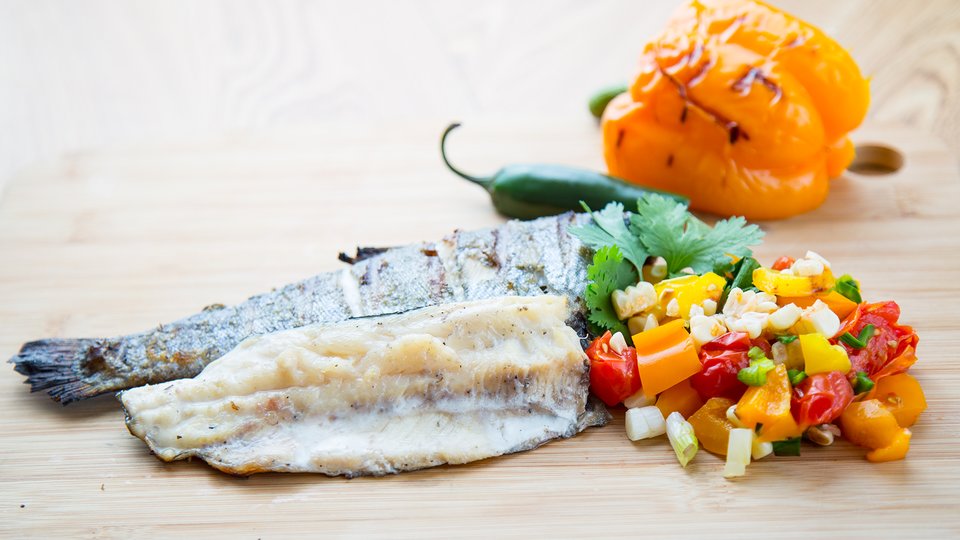 Rainbow trout fillets are a convenient, inexpensive, and nutrient-dense option for outdoor cookery. A flame-licked salsa gives this dish an unmistakable summer vibe. If you're using wood skewers for grilling your tomatoes, make sure to soak them beforehand in water for at least 20 minutes to keep them from burning.
Ingredients
1 pound rainbow trout
1 ear, yields corn on the cob, cooked
1 cup cherry tomatoes
1 whole orange bell pepper
1 whole jalapeno pepper, diced
1 tbsp scallions, sliced
¼ cup cilantro
1 tbsp lemon juice
salt and pepper to taste
Directions
Build a medium-hot fire in a charcoal grill, or heat a gas grill to medium-high.
Grease grill grates. Brush trout skin with oil; season fillet with salt and pepper. Place trout on grill, skin side down, shut lid, and cook k8-10 minutes or until just barely cooked through in the middle. Remove fish from grill and cover to keep warm.
Thread tomatoes on metal or wood skewers. Brush skewered tomatoes, corn, bell pepper, jalapenos, and scallions with oil and place on grill. Heat vegetables until tender and darkened in a few places, turning each at least once. Remove vegetables from grill and cover except to keep warm. Set corn to the side.
Once corn is cool enough to handle, slice kernels off cob and into bowl. Remove seeds and chop bell and jalapeno peppers and scallions. Add peppers, scallions, tomatoes, and cilantro to bowl with corn. Season mixture with lemon juice and a couple pinches of salt.
Serve trout topped with grilled vegetables.