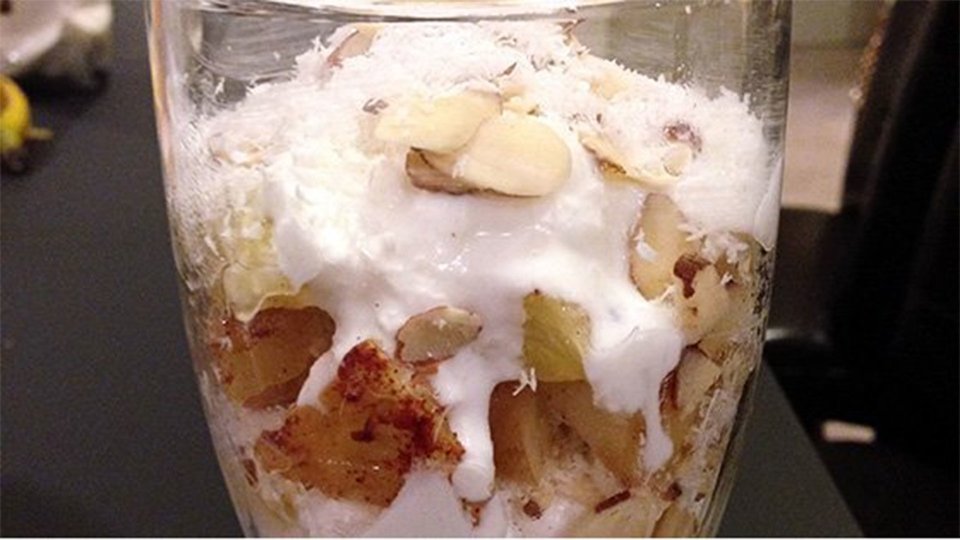 Finally, a parfait that tastes as great as it looks! Skip the frozen berries and mushy granola and grill up something fresh. The colorful fruit means a delicious dose of fiber and antioxidants. Add some almonds and you'll also get healthy fats and protein.
Ingredients
4 slice (3-1/2" dia x 3/4" thick) pineapple
1 orange
1 grapefruit
1 apples
1 tbsp light margarine
½ tsp cinnamon
3 cup nonfat plain Greek yogurt
2 tbsp almonds, slivered
2 tbsp dried unsweetened coconut flakes
Directions
Slice the orange, grapefruit, and apple.
Melt the margarine in the microwave and combine with cinnamon. Brush mixture over the fruit slices.
Put fruit on a skewer and place on grill. Grill the fruit for 3-4 minutes per side, or until grill marks form.
Remove from grill and cut into small, bite-sized pieces.
Layer fruit with Greek yogurt and top with a sprinkle of almonds and dried coconut.