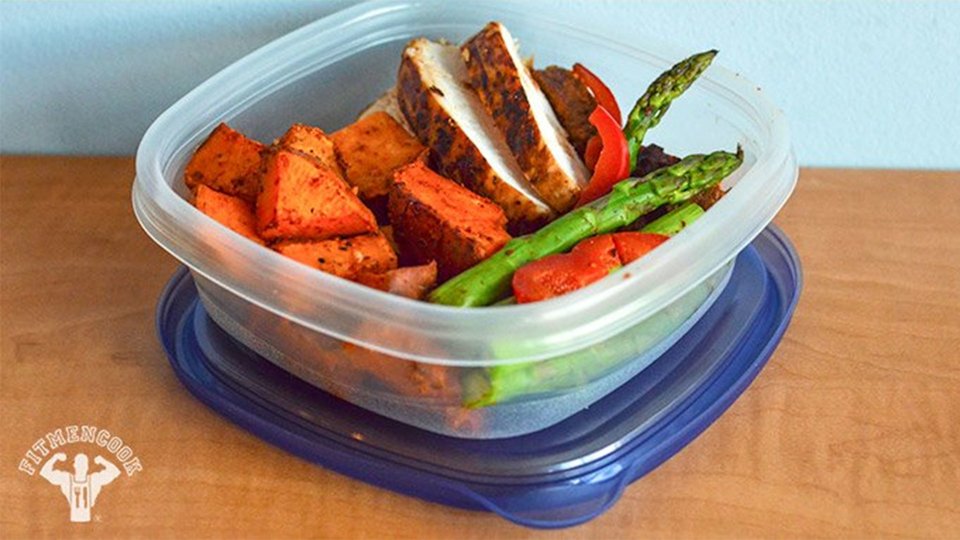 Skip the grease and sneak in the stir-fry with this guilt-free meal. With chicken as the main protein, and sweet potatoes and asparagus as sides, it's sure to meet your macros and leave you feeling satisfied.
Ingredients
30 oz chicken breast
1500 g sweet potato
1 lb asparagus
2 red bell pepper
1 tbsp coconut aminos
1 tbsp Mrs Dash, Fiesta Lime
Directions
Set oven to 405 degrees F.
Wash the raw sweet potatoes with warm water. Slice into small wedges.
Spray wedges with coconut oil and season. Bake at 405 degrees F for about 22 minutes.
Trim excess fat from chicken breasts. Wash and dry on a paper towel.
Carefully measure out a 30-oz portion of chicken breast.
Set a nonstick skillet to medium-high heat; lightly coat skillet with coconut oil.
Add seasonings to the chicken and cook in skillet.
Once the chicken is cooked, weigh the entire mixture and evenly divide into five servings.
Trim the asparagus spears and slice bell pepper into long, thin pieces.
Set a nonstick skillet on medium-high heat and lightly spray with coconut oil.
Once the skillet is hot, toss in the asparagus and bell peppers. While they sear, season with coconut aminos, garlic, and pepper.
Cook until the asparagus is soft, yet slightly firm. Speed things up by covering the asparagus while searing for about 2 minutes.