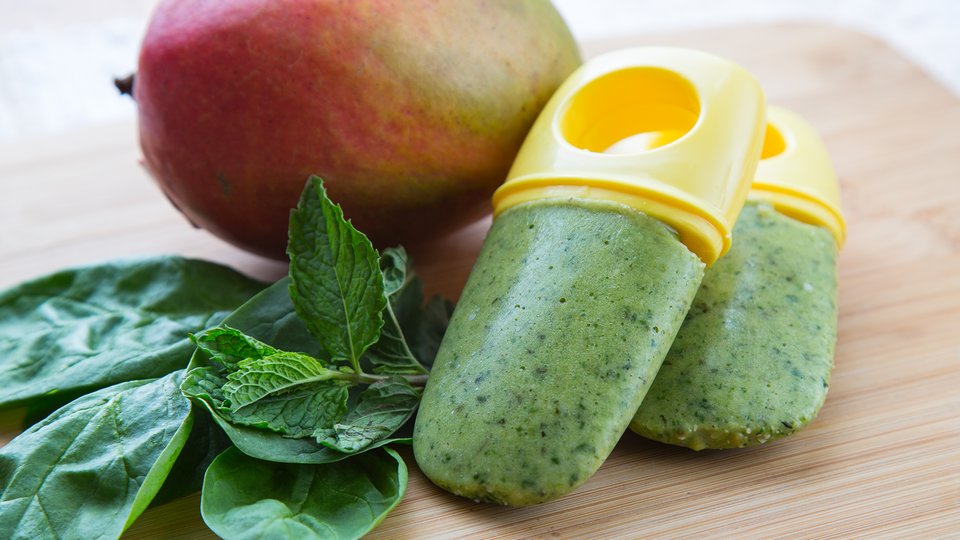 You'll be hard pressed to find frosty pops with more nutritional heft than these. Hemp seeds add a dose of plant-based protein and essential omega fats, while the mild-tasting baby spinach adds a dose of antioxidants. Use a plant-based protein powder if you want to keep these pops vegan or dairy free. Pineapple could also stand in for mango, and the mint can be replaced with fresh basil.
Ingredients
¾ cup unsweetened coconut milk
1½ cup frozen mango pieces
1½ cup baby spinach
⅓ cup mint leaves, chopped
¼ cup hemp seeds
2 scoop(s) vanilla whey protein powder
2 tbsp honey
1 tsp ginger, powdered
Directions
Place all of the ingredients in a blender and blend until smooth.
Evenly distribute mixture into popsicle molds, filling each about three-quarters full. Insert sticks and freeze for about 8 hours.
To unmold a popsicle, run the mold under warm water for a few seconds, being careful not to thaw the pops.