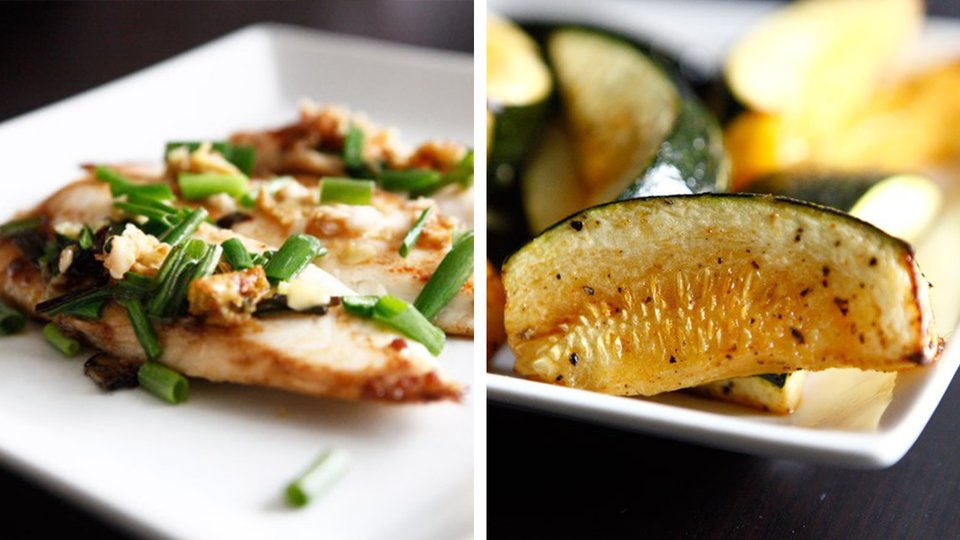 The Paleolithic diet is inspired by what our ancestors ate before the agricultural age. Along with being low-carb, the foods included on Paleo diet lists are usually natural and organic. The point of eating Paleo is to give your body the nutrients it needs without the processed additives and extra calories of a contemporary diet.
Ingredients
5 fillet tilapia
3 clove garlic, minced
8 tbsp ginger, minced
8 whole green onion, chopped
⅛ cup, shredded coconut, shredded
2 tbsp liquid aminos
2 tbsp coconut oil
½ medium summer squash
1 tbsp olive oil
1 pinch paprika
salt and pepper to taste
Directions
Heat 1 tbsp of coconut oil in skillet over medium heat.
Once oil has melted, add 2 or 3 tilapia fillets to skillet and cook for 2 minutes.
Flip tilapia and add ginger, garlic, and shredded coconut to the top of each fillet and let cook for 1 minute.
Spread 1 tbsp liquid aminos on the fillets and cook for another minute.
Flip fillets one more time, add green onions and cook for another minute.
Turn oven to broil. Arrange rack so baking pan is close to heat.
Cover baking pan with aluminum foil and set aside.
Cut squash into thick wedges about one inch thick.
Place wedges in a Ziploc bag and add the rest of the ingredients.
Close bag and shake it thoroughly.
Place wedges in a single row in the center of the baking dish and broil for 5 minutes or until golden.
Carefully flip each wedge and broil for another two minutes.