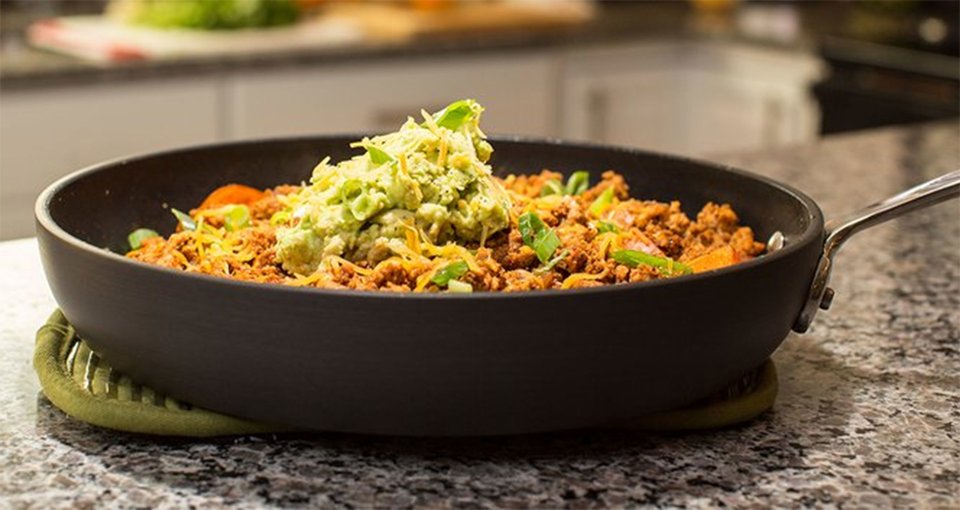 Skip greasy, fried nachos in favor of complex carbs with these sweet-potato, protein-topped nachos.
Ingredients
3 whole sweet potato
⅓ cup red onion, diced
1 lb ground 99% fat-free turkey breast
2 tbsp chili powder
1 tbsp garlic powder
½ cup low-sodium tomato sauce
2½ oz avocado
2½ oz nonfat plain Greek yogurt
1 oz low-fat cheddar cheese
1 tbsp green onion, chopped
1 tbsp olive oil
salt and pepper to taste
Directions
Slice sweet potato into wedges, and spray potato wedges with olive oil.
Season wedges with sea salt and pepper to taste.
Sauté seasoned wedges for 5 minutes until outsides are brown.
Bake sautéed potatoes at 400 F for 20 minutes.
Sauté onions with olive oil, and add turkey to the skillet.
Season turkey with chili powder, garlic powder, sea salt, and pepper. Add no-salt tomato sauce.
Remove the potatoes from the oven, and top them off with the meat sauce.
Garnish with avocado, Greek yogurt, green onions and cheese.