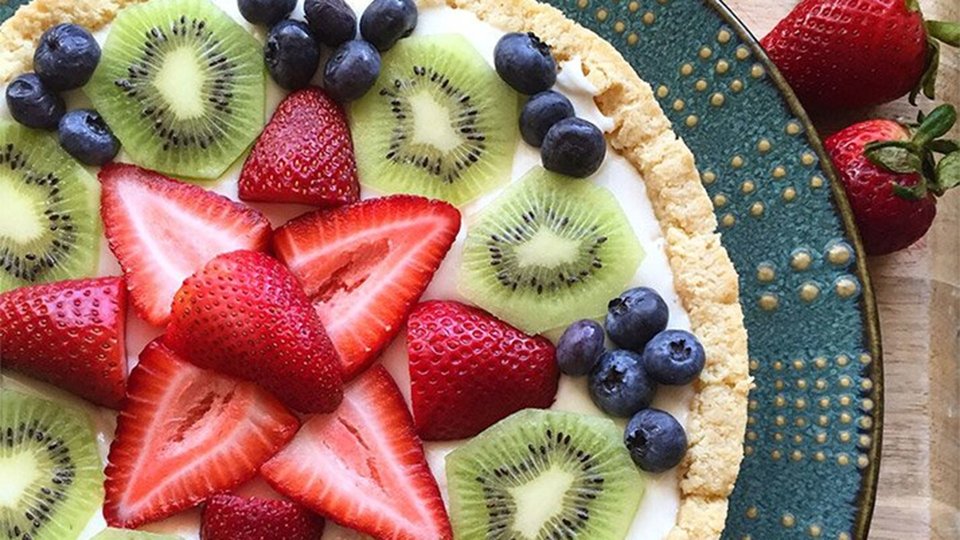 The protein pie crust recipe would be great for any pie, but it's absolutely perfect with this light and fruity tart filling! You can also make this the night before and garnish with fruit just before serving. Make two if you would like more generous helpings. Trust me, you will!
Crust Ingredients
1½ cup oat flour
120 g Jamie Eason Signature Series Whey Protein Isolate
¼ tsp table salt
3 tbsp coconut oil
1 whole egg
2 tbsp water
Filling Ingredients
16 oz nonfat plain Greek yogurt
½ cup powdered Stevia
½ tsp vanilla extract
Topping Ingredients
1 cup strawberries
1 kiwi
½ cup blueberries
Directions
Preheat oven to 350° F.
Combine crust ingredients, and knead to form a dough. Add another water if dough is too crumbly too stick to itself.
Press dough in an 8- or 9-inch cake pan or tart pan and bake for 10-15 minutes.
Combine Greek yogurt, sweetener, and vanilla until smooth. I recommend splurging on a high-quality brand like Fage. If your Greek yogurt doesn't have a thick pudding-like texture, leave it in a fine sieve coated with cheesecloth or coffee filters for a couple hours to drain off excess liquid.
Spread yogurt mixture over cooked pie crust, and leave in fridge for 30-45 minutes until set.
Garnish with fruit and slice into 12 pieces.