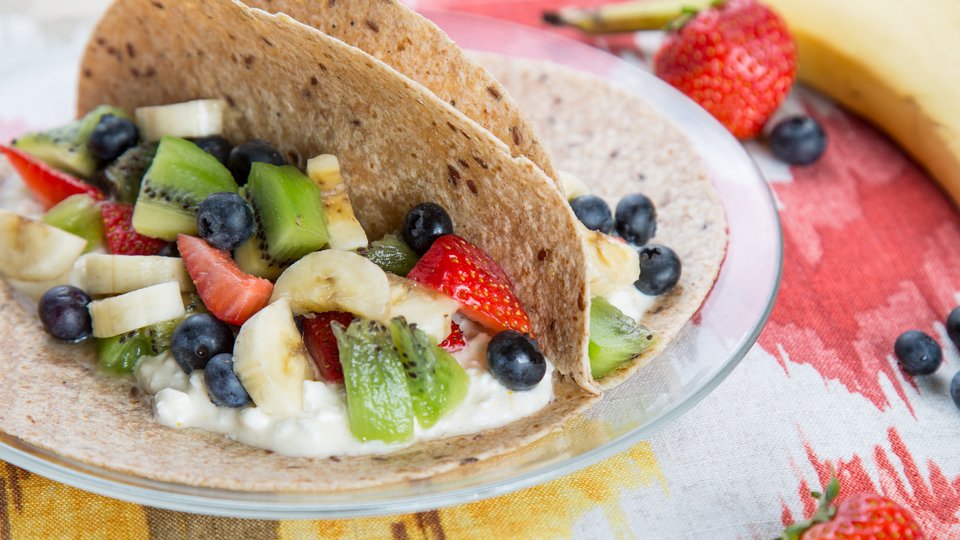 Slathered with zesty cottage cheese and piled high with fruit salad, these sweet tacos will have you jumping out of bed in the morning. Add a sprinkling of granola for some crunch. These tacos can also serve as a healthy dessert or even a post-workout treat. The cottage cheese mixture and fruit salad can be made a few days in advance and chilled.
Ingredients
1¼ cup fat-free cottage cheese
1 tbsp honey
2 tsp orange zest
1 tsp vanilla extract
1 cup blueberries
1 cup strawberries
2 whole kiwi
1 large (8" to 8-7/8" long) banana
4 whole whole wheat soft tortillas
1 cup granola
Directions
In a bowl, stir together cottage cheese, honey, orange zest, and vanilla.
In a separate bowl, toss together blueberries, strawberries, kiwis, and banana.
Spread portion of cottage cheese mixture on a tortilla.
Top with fruit salad and granola.