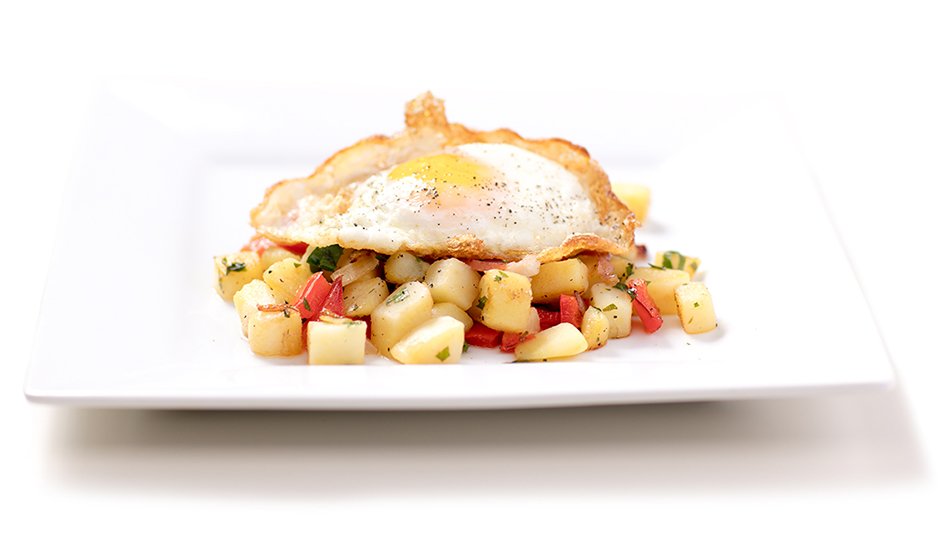 This recipe is three things: easy, simple, and nutritious. The combination of sweet potato, sautéed bacon, and onions makes a great throne upon which to display your egg. Dig into this muscle-building meal fit for a champ!
Ingredients
1 whole sweet potato
1 sliced white onion
1 whole red pepper, thinly sliced
1 whole egg
2 tbsp grapeseed oil
¼ tsp lime juice
1 tsp scallions, sliced
1 salt and pepper to taste
1¼ cup flat-leaf parsley
2 slice bacon strips
Directions
Peel and dice sweet potato. We used a local white sweet potato.
Coat pan with grapeseed oil.
Sauté onions and bacon pieces. Allow to caramelize. Don't shake the pan because you'll break the sear that's giving it that golden brown color.
Add red peppers and sweet potatoes.
Dice and add fresh parsley.
Add lime juice.
As the hash cooks, add oil to another pan and allow pan to warm.
Crack and fry egg.
Top hash with scallions and salt and pepper to taste. Plate and top with fried egg.