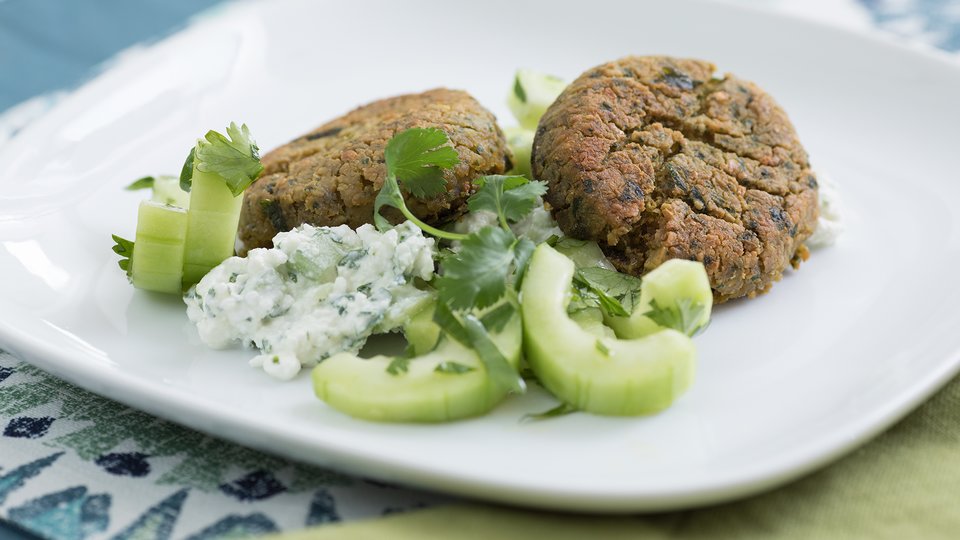 If you can make meatballs, you can make falafel. This quick and easy recipe is baked, not fried, so you can enjoy all your favorite Middle Eastern flavors without all the extra calories. Add the high-protein cottage cheese tzatziki and you have a balanced and delicious meal you can enjoy by itself or paired with a whole wheat pita for added carbs and energy.
tzatziki Ingredients
½ cup fat-free cottage cheese
2 tsp mint leaves
1 tbsp cilantro
1 clove garlic, minced
½ cucumber, chopped
falafel Ingredients
1 cups chickpeas, cooked
2 clove garlic, minced
¼ cup cilantro
2 tsp cumin
1 tsp chili powder
1 tsp table salt
¼ tsp baking soda
2 tsp lemon juice
Directions
For the tzatziki: Combine cottage cheese with mint, cilantro, chopped garlic, and cucumber. Let sit for about 30 minutes for all the flavors to combine.
Preheat oven to 375 degrees F.
Combine the chickpeas, garlic, cilantro, cumin, chili powder, salt, baking soda, and lemon juice in a food processor. Pulse until they begin to come together, but are not yet perfectly smooth. Add a little water as necessary to help it all come together.
Form the chickpea mixture into balls about 1 inch in diameter, place on a baking sheet, and bake for about 20 minutes.
Serve falafel with tzatziki sauce.
Note: For a vegan option, try using soft tofu in place of cottage cheese.