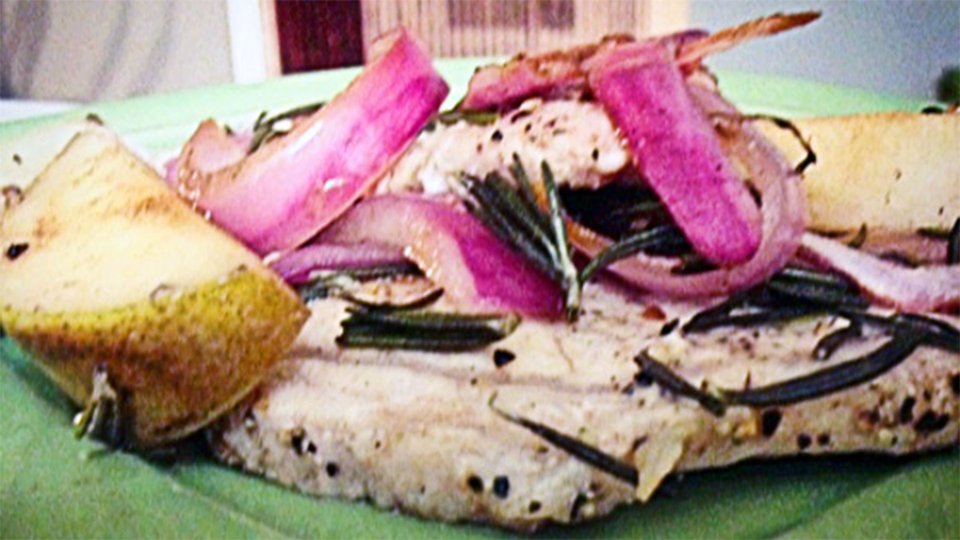 Dinner fit for a matador. The recipe is great for days when that 12-ounce T-bone steak just seems like a bit much. Pears are the quiet stepsister to the spotlight-hogging apple, so give her a dance and don't retreat to the comfortable arms of the applesauce-glazed chops just yet. Round out a successful paleo-inspired day with vitamins C and A, folic acid, and potassium on top of your meat.
Ingredients
16 oz lean pork chops
2 medium pears
1 whole red onion, sliced
¼ tbsp balsamic vinegar
2 tbsp olive oil
1 tbsp rosemary
salt and pepper to taste
Directions
Preheat oven to 400 degrees.
Heat olive oil in a large cast iron skillet over medium heat.
Season pork chops with salt and pepper on both sides and place in skillet. Sear for 2-3 minutes on each side. Let stand.
Then sauté the pear and onion slices in the skillet for 2 minutes, or until the pear slices are slightly browned.
Drizzle balsamic vinegar over the pear and onion, and arrange the pork chops and fresh rosemary on top.
Bake in the oven for approximately 10 minutes or until the meat is thoroughly cooked.