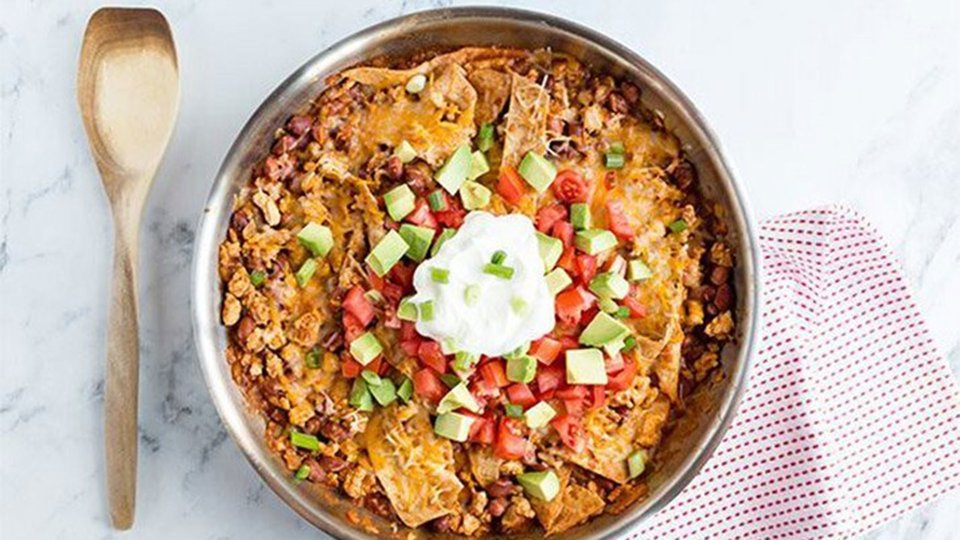 This burrito is as delicious as it is easy to make. Skip the fast-food drive-thru and instead make this delicious one-pan meal that's packed with melted cheese, avocado, and ground turkey. Did I mention it has 9 grams of fiber and 25 grams of protein per serving? It's a nutritional and taste win-win! Feel free to substitute ground turkey with chicken, beef, or pork, and season it to meet your favorite flavor profile.
Ingredients
2 tsp olive oil
1 onion, finely diced
1 lb ground 99% fat-free turkey breast
1 tbsp chili powder
¼ tsp garlic powder
¼ tsp onion powder
¼ tsp, ground oregano
½ tsp cumin
½ tsp table salt
¼ tsp paprika
15 oz kidney beans, canned
1 cup salsa
1 cup water
3 whole whole wheat soft tortillas
¾ cup reduced-fat Mexican cheese
Directions
Heat a large skillet over medium-high heat, and add the oil and onion, cooking the onion for 2-3 minutes.
Add the turkey, breaking it up with a wooden spoon as it cooks.
When the meat is fully cooked, add the chili powder, garlic powder, onion powder, oregano, cumin, salt, and paprika, stirring it all together with the meat.
Reduce the heat to medium-low, and add the beans, salsa, and water. Stir everything together, and cook at a low simmer for 4-5 minutes.
Cut tortillas into strips. Stir in the tortilla strips, making sure to push them around in the pan so they are coated and soft, about 2 minutes.
Remove the skillet from the heat, and add the cheese over the top. Let stand for 5 minutes until the cheese melts.
Top with optional avocado, tomatoes, yogurt, or sour cream, and green onions as desired.