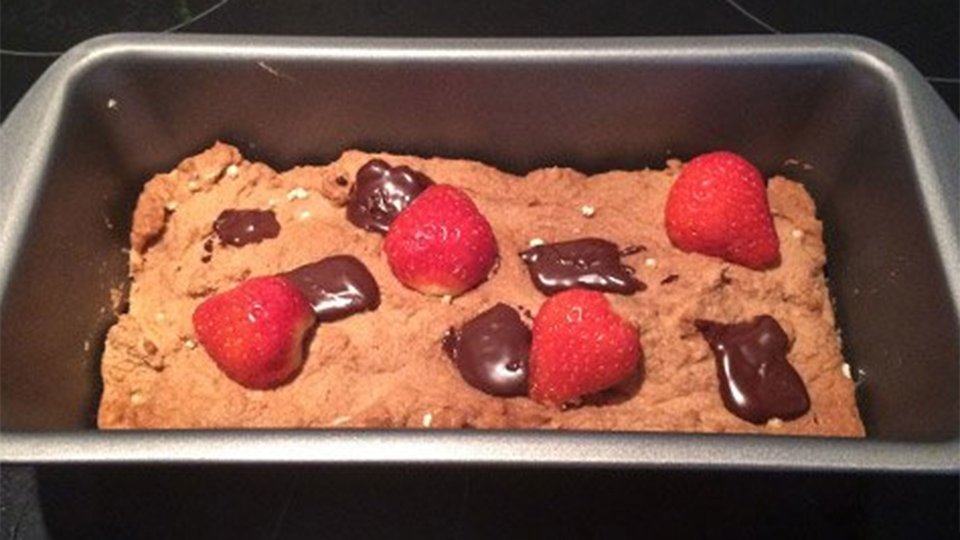 Just finished a brutal workout? Replenish your energy and kick-start muscle growth and repair with a chocolate protein cake that actually meets your macros!
Ingredients
1 scoop(s) vanilla whey protein powder
2 whole egg
¼ cup coconut flour
¾ cup almond milk
½ tsp baking powder
10 g strawberries
10 g blueberries
1 square dark chocolate
Directions
Preheat oven to 375 degrees F (190 degrees C).
Mix all ingredients except chocolate and berries in a bowl.
Whisk until mixture is light and almost frothy. If needed, add more almond milk to achieve the right consistency.
Break dark chocolate into smaller pieces. Add to mixture along with berries.
Line loaf tin with wax paper or coconut oil.
Pour in mixture, and place in the oven. Cook for 40-60 minutes. Make sure a toothpick or knife comes out clean. (If you have a good oven the cooking time may be shorter so, as time creeps on, be sure to pay attention to your loaf.)
Devour!
Serving suggestion: If you find the loaf a bit dry, or just want to add a little extra flavor, reach for a dollop of yogurt. It adds that extra bit of deliciousness, balances the dish out perfectly, and eliminates the need for a coat of sugar-filled icing.