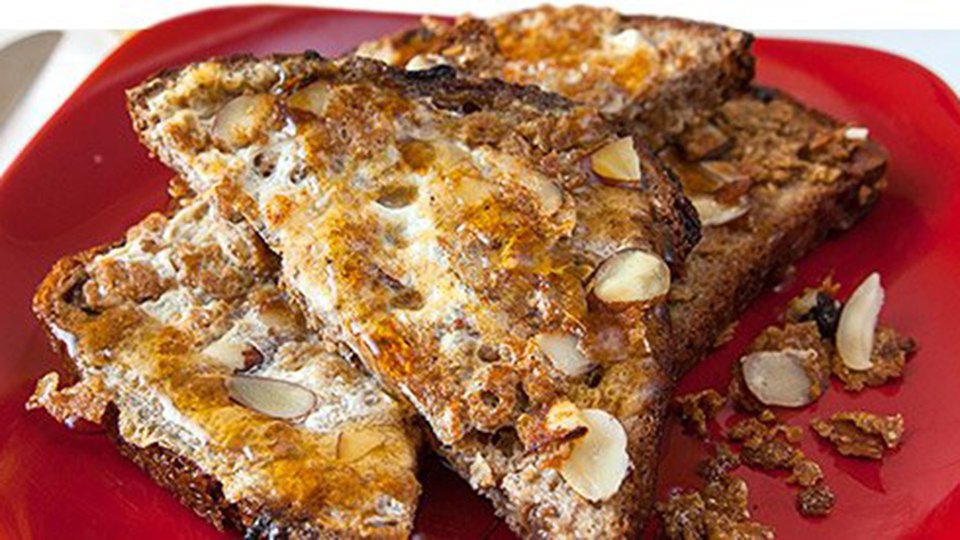 Breakfast in bed will never be the same with this amazing, filling breakfast dish!
Ingredients
2 slice ezekial bread
¼ cup whole kernels almonds
2 tbsp almond milk
2 large egg whites
1 tsp vanilla extract
1 to taste cinnamon
1 tsp sugar-free vanilla syrup
½ cup whole wheat cereal
Directions
In a large bowl, whisk the egg whites, milk and vanilla. Soak the bread in the mixture.
While the bread is soaking, place cereal in a sealed plastic bag and crush with a rolling pin. Add sliced almonds and shake the bag to mix. Pour into a shallow pan.
Carefully remove the bread slices from the egg mixture and coat with the cereal crumbs on both sides. Place the coated slices on a pre-sprayed baking sheet and bake each side for 10 minutes, or until lightly browned.
Top with cinnamon and sugar-free syrup.