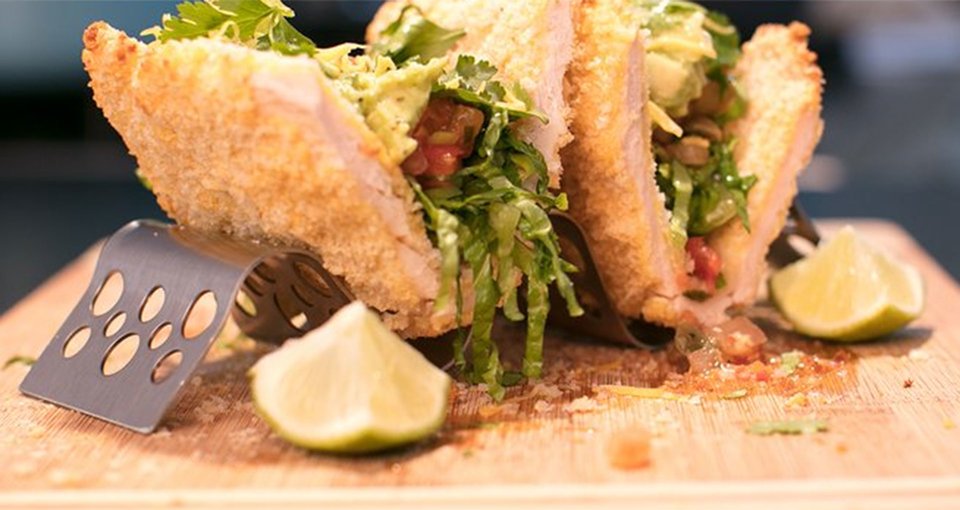 Kiss fast food goodbye and make taco time fit your macros with this chicken-based take on the original.
Ingredients
2 piece chicken breast
⅓ cup whole-wheat panko bread crumbs
1 tsp garlic powder
1 tsp onion powder
salt and pepper to taste
1 egg
¼ cup coconut flour
Garnish Ingredients
1 cup lettuce shredded
1 tbsp pico de gallo
¼ cup, pureed avocado
½ cup, shredded low-fat cheddar cheese
Directions
Set oven to 420 degrees F.
Mix panko and seasonings.
Butterfly the chicken breast. Hammer it thin with a mallet, if needed. Dust with coconut flour.
Beat an egg in a small bowl. Dip the chicken breast in egg, then seasoned panko.
Spray a skillet with oil and allow it to get hot. Add the chicken breast and sear both sides (about 2-3 minutes).
Place the skillet and chicken breast in the oven for an additional 5-8 minutes.
Allow to cool, then add chicken to taco holder and garnish.