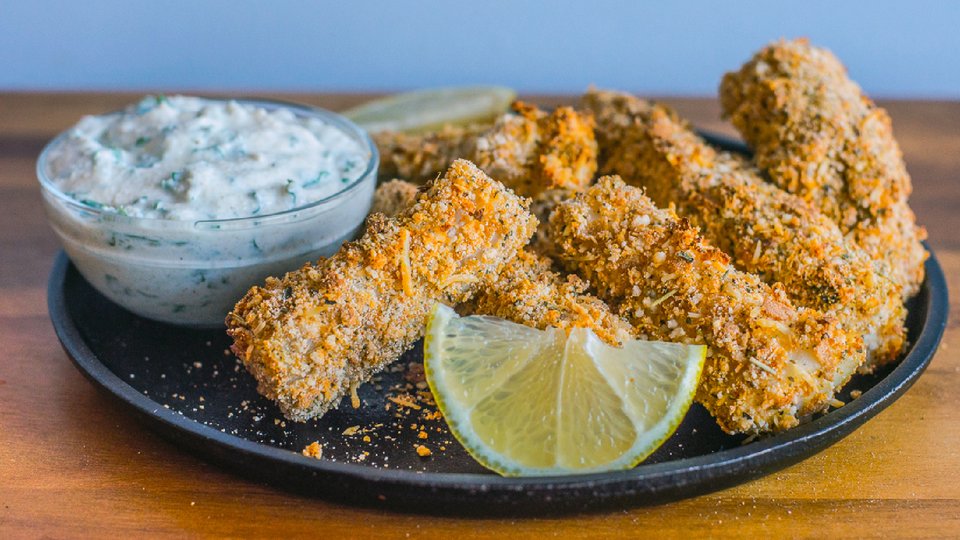 Bypass the heavily processed, freezer-frosted childhood favorite for this healthy, cheese-dusted alternative. You can have your omega-3s and enjoy them, too. Pair with a yogurt-based dipping sauce and a wedge of lemon for a classic touch.
Fish Sticks Ingredients
2 whole 4 oz tilapia fillets
1 package (6 oz) bread stuffing, bread, dry mix
2 tbsp coconut flour
¼ cup low-fat Parmesan cheese
1 tsp cayenne pepper
1 whole egg
1 tbsp liquid egg whites
Lemon Dippin Sauce Ingredients
½ cup vanilla, nonfat greek yogurt
¼ cup red onion, diced
½ tsp coriander
½ cup lemon juice
1 salt and pepper to taste
Directions
Set oven to 405 degrees Fahrenheit.
Cut fish into long pieces so they resemble slender fillets. You can remove the skin of the fish as well. If you have a thinner piece of white fish, it may be harder for it to stay together without the skin. If you use a fish like catfish, I highly recommend removing the skin before baking.
Mix panko, amaranth flakes, parmesan, Italian seasoning, and cayenne together in a bowl.
Beat eggs in another bowl.
Dip fish in the egg mixture, then dip into the breadcrumbs. Place the pieces on a baking sheet or rack.
Bake for 15 minutes.
Mix all of the ingredients together for the dipping sauce and season with sea salt and pepper to taste.