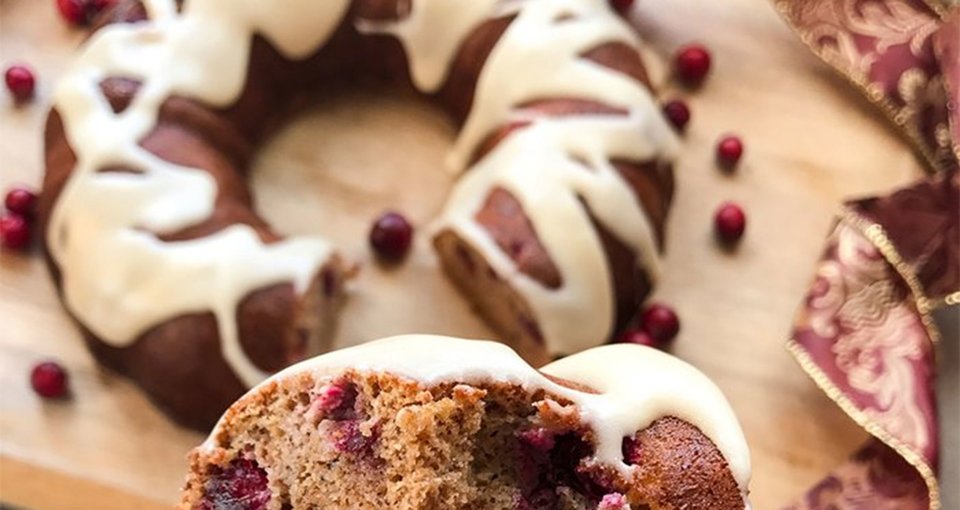 This here is my first-ever protein-packed bundt cake! I was worried it would turn out too dry or not dense enough, but I was wrong; it's absolutely divine. Everything from the moist spiced cake and tart cranberries to the rich rum-flavored glaze packs a punch. It's the perfect holiday treat to share with friends and family, because they'll never guess it's low in sugar and high in protein. Seriously, this cake is so delicious it didn't even last a day at our house!
Cake Ingredients
90 g vanilla whey protein powder
½ cup almond flour
¼ cup Splenda, brown sugar blend
¼ cup Pyure organic stevia blend
1 tsp baking soda
1 tsp cinnamon
1 tsp nutmeg
½ tsp ground ginger
¼ tsp allspice, ground
½ cup unsweetened applesauce
1 egg
1 tsp vanilla extract
1 cup cranberries
½ tsp table salt
Rum Glaze Ingredients
30 g vanilla whey protein powder
1 tbsp confectioners erythritol
2 tbsp unsweetened almond milk
¼ tsp rum extract
Directions
Preheat oven to 350 degrees F.
Lightly spray a Bundt pan or 8-9-inch cake pan with cooking spray and set aside.
Whisk together dry ingredients in a large mixing bowl.
Add wet ingredients and mix until combined. If batter is not a pourable consistency, add water or milk of choice.
Stir in cranberries, then pour batter into prepared pan.
Bake for 20-25 minutes until a toothpick or knife inserted comes out clean.
While cake cools, combine glaze ingredients, adjusting sweetener and rum flavoring to taste.
Spread or drizzle glazed over cake and enjoy! Can be stored in the fridge up to one week.