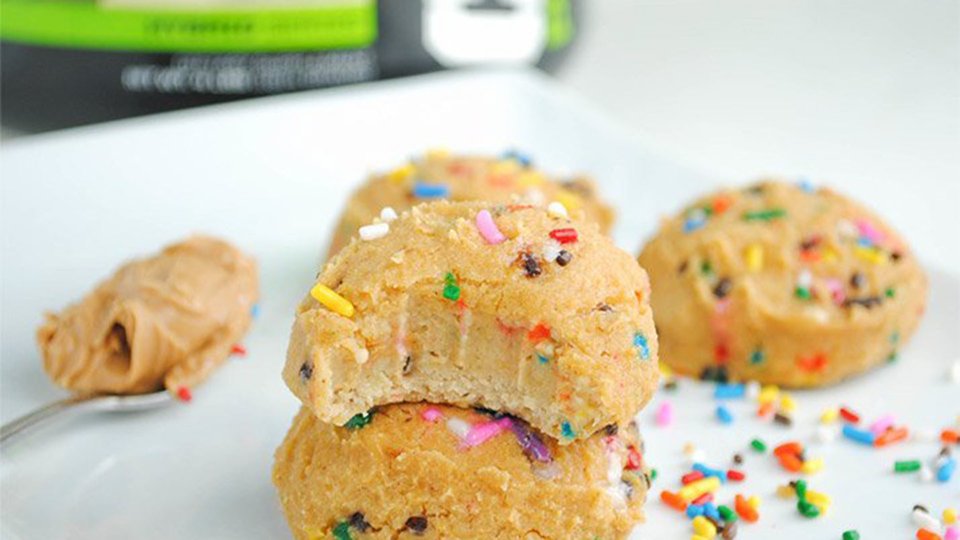 Getting a protein cookie to turn out well can be difficult. Having it taste good while simultaneously meeting your macros is no easy task, but this is by far the best recipe I've made. Again, the prep time is a breeze, as is the minimal cook time—5 and 9 minutes, respectively. This means you can enjoy these cookies almost immediately!
Ingredients
1 cup chickpeas
2 scoop(s) musclePharm Combat Powder
½ cup powdered Stevia
¼ cup coconut flour
1 whole egg
½ cup unsweetened applesauce
2 tbsp milk (2% fat)
2 tbsp cake sprinkles
1 tsp vanilla extract
3 tbsp coconut sugar
Directions
Preheat oven to 350 degrees F.
Drain garbanzo beans and rinse well. Add garbanzo beans, egg, applesauce, milk, and vanilla extract to food processor. Process until smooth.
Add Stevia, coconut sugar, protein powder, and coconut flour, and process again. Lastly, add sprinkles, and pulse a few times to incorporate.
Scoop cookies onto cookie sheet about 1/4 cup at a time. There should be enough batter to make 10 cookies.
Bake for 8-10 minutes. Cook longer if you like them more done, but cooking less gives more of a moist cake texture instead of drying the cookies out.