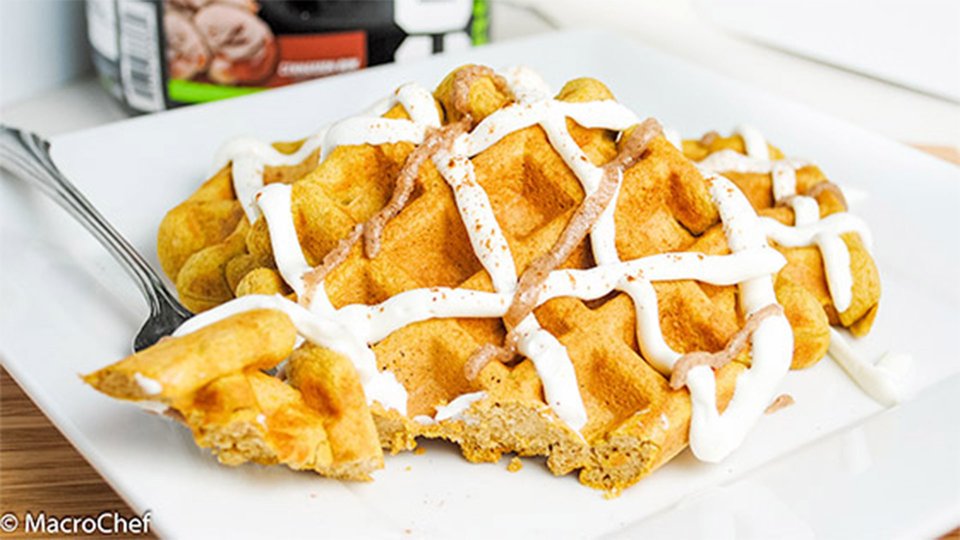 By golly, this might be one of my greatest creations yet! The warm ooey-gooeyness of a sticky cinnamon roll is perfected when flattened into a golden waffle and jam-packed with protein. Hubba, hubba! Say no more and get to making this recipe, stat.
Ingredients
½ cup whole-wheat flour
⅔ scoop MusclePharm Combat Powder (Cinnamon Bun)
1 tbsp powdered Stevia
½ tsp cinnamon
¼ tsp baking powder
¼ cup unsweetened almond milk
2 tbsp unsweetened almond milk
1 whole egg
¼ cup pumpkin, canned
½ tsp vanilla extract
Cream Cheese Icing Ingredients
¼ cup nonfat plain Greek yogurt
1 cup fat-free cream cheese
1 tbsp powdered Stevia
Directions
Preheat waffle iron to medium heat. Mix whole-wheat flour, protein powder, Stevia, baking powder, and cinnamon in bowl.
In a separate bowl, mix egg, almond milk, vanilla extract, and pumpkin.
Add wet ingredients to dry and gently mix until combined. Spray waffle iron with cooking spray.
Spoon batter into waffle iron to make three waffles. Cook for about 4-5 minutes or until golden brown.
Mix room-temperature cream cheese, Greek yogurt, and Stevia. Spoon icing into a plastic bag or piping bag. Cut the end off and pipe frosting onto waffles.
Top with cinnamon roll coconut butter and a sprinkle of cinnamon!
Note: Pumpkin can be substituted for an equal amount of Greek yogurt, applesauce, or mashed banana.