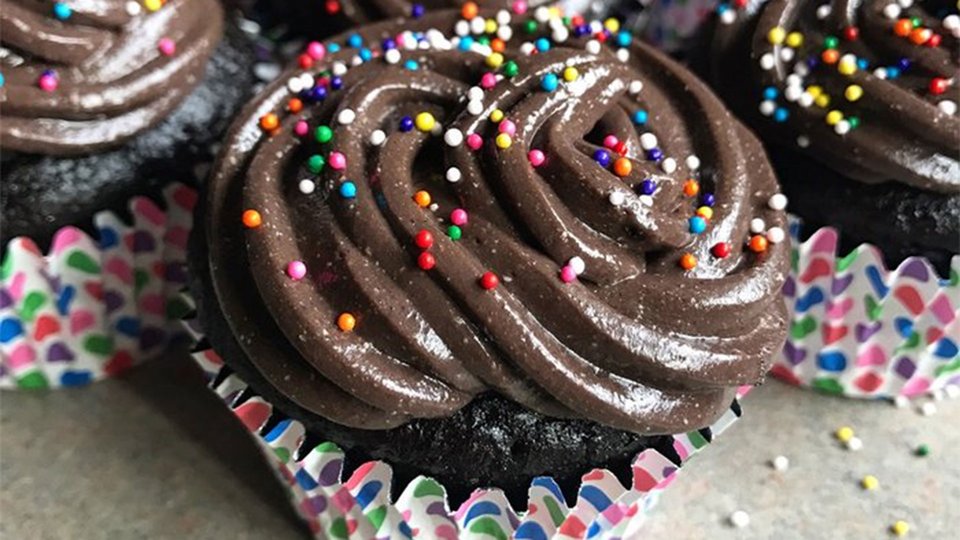 Being a raving chocoholic, I made these cupcakes full of intense chocolate flavor! If you find them too rich, maybe try using a couple tablespoons less cacao powder or adding less sweetener.
Cupcake Ingredients
80 g chocolate protein powder
6 tbsp Pyure organic stevia blend
⅓ cup raw cacao powder
¼ cup coconut flour
½ tsp baking powder
⅓ cup egg whites
¼ cup Libby's 100% Pure Pumpkin
¼ cup unsweetened applesauce
¼ cup nonfat plain Greek yogurt
¼ cup coffee, brewed
2 tbsp vegetable oil
½ tsp vanilla extract
¼ tsp table salt
Frosting Ingredients
4 oz fat-free cream cheese
40 g chocolate protein powder
¼ cup Pyure organic stevia blend
2 tbsp cocoa powder, unsweetened
2 tbsp unsweetened almond milk
½ tsp vanilla extract
Directions
Preheat oven to 350 degrees F.
Whisk together dry ingredients in a medium mixing bowl.
Blend together wet ingredients, then mix into dry ingredients until combined.
Line nine wells of a muffin pan with paper or foil cupcake liners, and spray the insides with cooking spray. Alternatively, spray the insides of the wells with cooking spray and omit liners.
Divide cupcake batter between prepared wells and bake for 20-25 minutes, until set in the center.
While cupcakes cool, blend together frosting ingredients until smooth.
Spoon frosting into a piping bag or sealed baggie with one corner cut off, and frost cupcakes.
Note: These cupcakes will keep in the fridge up to one week or in the freezer (without frosting) up to one month. If frozen, thaw them at room temperature, then add the frosting.