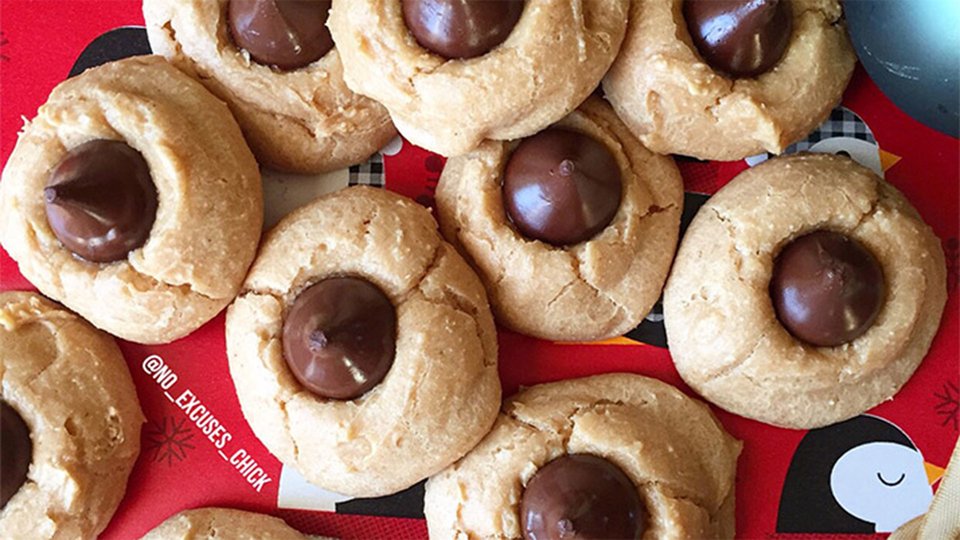 Chocolate and peanut butter is one of those classic combos that never get old! These crave-worthy "blossoms" are packed with protein to keep you full for hours. You can even leave off the kisses for a scrumptious low-carb peanut butter cookie! Yum.
Ingredients
50 g vanilla whey protein powder
⅓ cup powdered Stevia
¼ cup powdered peanut butter
2 tbsp coconut flour
½ tsp table salt
¼ tsp baking powder
½ cup nonfat plain Greek yogurt
¼ cup natural peanut butter
¼ cup egg whites
½ tsp vanilla extract
12 piece hershey's Special Dark Chocolate Kisses
Directions
Preheat oven to 350 degrees F. Whisk together dry ingredients in a mixing bowl, then mix in wet ingredients until smooth.
Lightly coat a baking sheet with cooking spray and drop cookies 1-2 inches apart, using rounded tablespoons.
Bake for 6-8 minutes until batter has set, press a chocolate kiss into the center of each cookie, and bake for another 2 minutes. Let cool for 15-30 minutes.