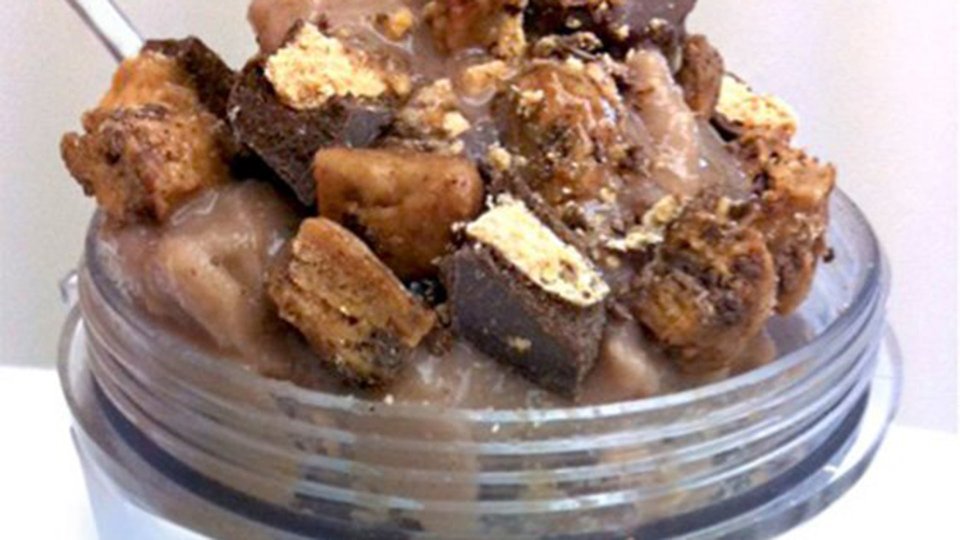 Just say the title of this shake three or four times out loud and try not to start jumping around like a little kid. My healthy chocolate treat is topped with Quest Cravings Protein Peanut Butter Cups and nuggets of Quest's Chocolate Chip Cookie Dough Protein Bars. These gems raise this creamy treat to a whole new level of guilt-free decadence. The peanut butter cups taste just like candy, but because they're not made with sugar and are high in protein, you can have one without compromising your healthy lifestyle.
Ingredients
¾ scoop MuscleTech 100% Whey Advanced protein, Triple Chocolate Brownie
¼ scoop Cellucor COR-Performance, Peanut Butter Marshmallow
1 cup unsweetened almond milk
¼ cup zucchini, sliced
½ bar Quest Bar, chocolate peanut butter
2 tbsp walden Farms Syrup
¼ bar Quest Nutrition Chocolate Chip Cookie Dough Bar
Directions
Blend the protein, almond milk, and zucchini together in a blender, Magic Bullet, or other mixer. Ensure the zucchini is completely pureed.
Pour this mixture into your ice cream machine for 10-15 minutes.
While you are waiting, cut peanut butter cup and Quest bar into tiny pieces with scissors.
Serve in a cup and drizzle with 2 tbsp Walden Farms Sugar Free, Calorie Free Pancake Syrup (this is optional, but delicious) and add your Quest pieces.