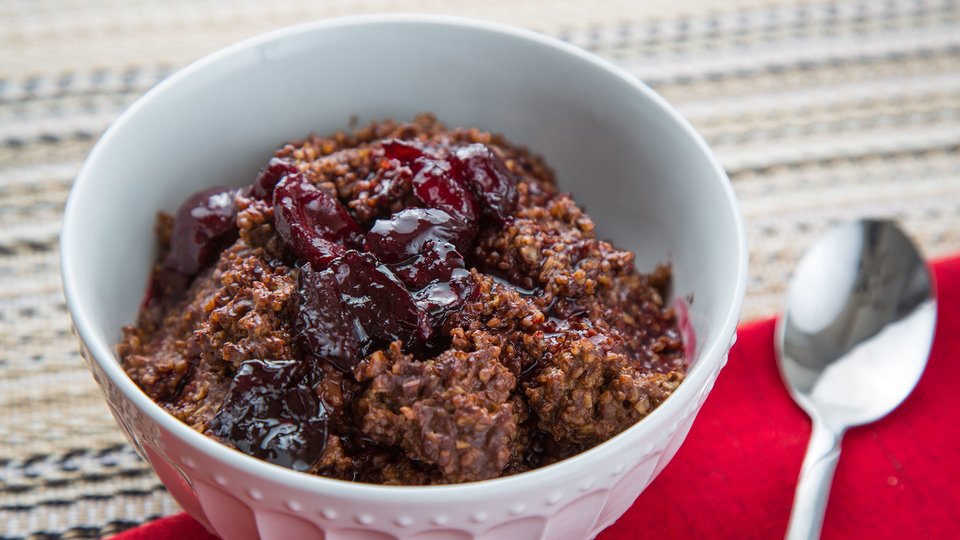 Chocolate infused oatmeal. Can there be any better way to start the day? Soak the oats overnight to cut down on their cooking time. You can also prepare the cherry sauce in advance and heat it up again at breakfast. If you want to bump up the protein numbers, stir some protein powder into the oats as you heat them up on the stovetop.
Ingredients
1¼ cup steel-cut oats
2 cup cherries, frozen
2 tbsp honey
½ lemon yields lemon juice
1 tsp cinnamon
1 tsp vanilla extract
¼ cup skim milk
2 square dark chocolate
¼ cup walnuts, chopped
Directions
Place oats and a pinch of salt in a medium saucepan. Add 3-1/2 cups water, bring to a simmer, immediately turn off heat, and let oats soak covered overnight.
To make the cherry sauce, bring cherries, honey or maple syrup, lemon juice, 1/2 tsp cinnamon, vanilla, and a pinch of salt to a boil in a small saucepan. Reduce heat to low and simmer until cherries have softened and mixture is slightly thick, about 5 minutes.
In the morning, add milk and 1/2 teaspoon cinnamon to oats and heat over medium-low until oats are tender, about 10 minutes. Stir in chocolate until melted.
Place chocolate oats in serving bowls and top with cherry sauce and walnuts.