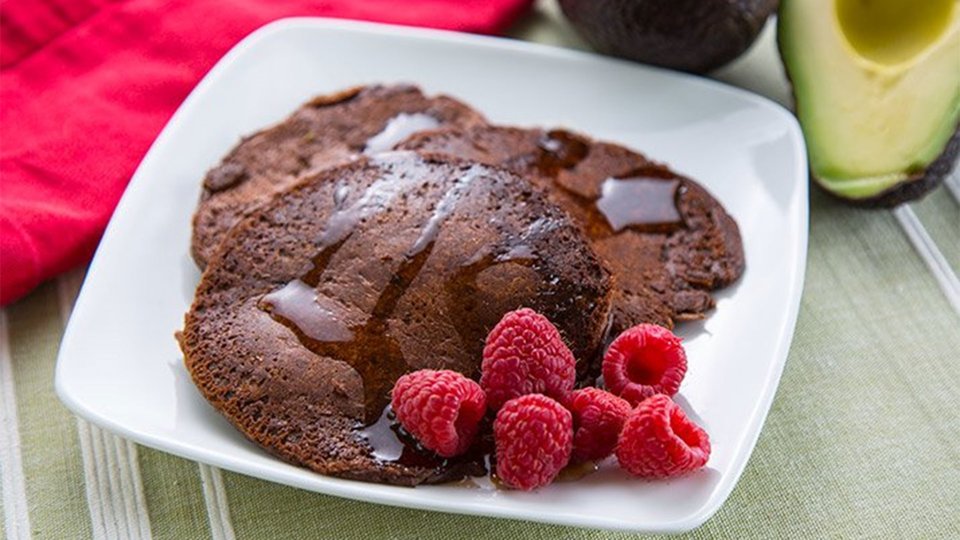 Avocado gives these dessert-like pancakes a creamy fudge consistency. The batter won't spread like typical pancake batter, so be prepared to spread it out with a spatula or spoon. Try topping the finished pancakes with raspberries and a drizzle of pure maple syrup. The batter can be made in advance and kept in the refrigerator for up to two days.
Ingredients
1½ cup skim milk
1 avocado
2 tbsp brown sugar
1 cup oat flour
¼ cup almond flour
¼ cup cocoa powder, unsweetened
1 tsp cinnamon
1 tsp baking powder
½ tsp baking soda
¼ tsp table salt
Directions
Blend together milk, avocado, and sugar until smooth. In a large bowl, mix oat flour, almond flour, cocoa powder, cinnamon, baking powder, baking soda, and salt.
Add avocado mixture to flour mixture and stir until everything is moist. Add additional milk if needed to achieve the right consistency.
Heat a greased skillet over medium heat. For each pancake, drop 1/4 cup of batter into the skillet, smooth out into a circle, and cook for 2-3 minutes per side, or until the outside edges are set and the middle is still a bit moist.