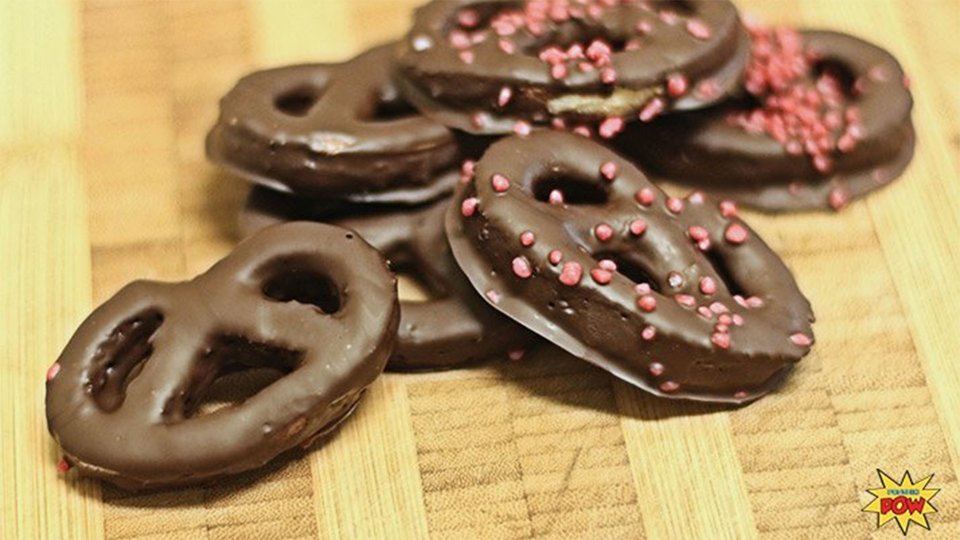 Turn the treat of chocolate-covered pretzels into a protein-packed creation with this healthy twist on the original.
Ingredients
½ cup(s) vanilla whey protein powder
⅛ cup coconut oil
4 tbsp coconut flour
¼ cup almond milk
5 square dark chocolate
Directions
In a bowl, mix together the whey, coconut oil, coconut flour, and milk until you get dough. Make sure your coconut oil is melted before you do this, by the way. (If it isn't, just stick it in the microwave for a few seconds).
Roll out the dough on a nonstick cookie tray or on top of some baking parchment.
Get out your pretzel cutter, and cut out 14 pretzel shapes.
Bake the pretzels on a nonstick cookie tray or on top of baking parchment at 320 F (160 C) for about 10 minutes, or until they're cooked though but not super hard. You don't want to bake them to death. They shouldn't brown at all; they just need to cook through.
Melt your chocolate in a bain marie (a glass bowl on top of a pot of boiling water) or double boiler, and dip the pretzels in there. Decorate by sprinkling with candy chunks, chocolate flakes, or honeycomb. I added some strawberry sprinkles; they're awesome because they add crunchiness to the pretzel, which is delicious.
Put the pretzels in the fridge for a couple of hours or the freezer for 30 minutes and BOOOOM! Ready!