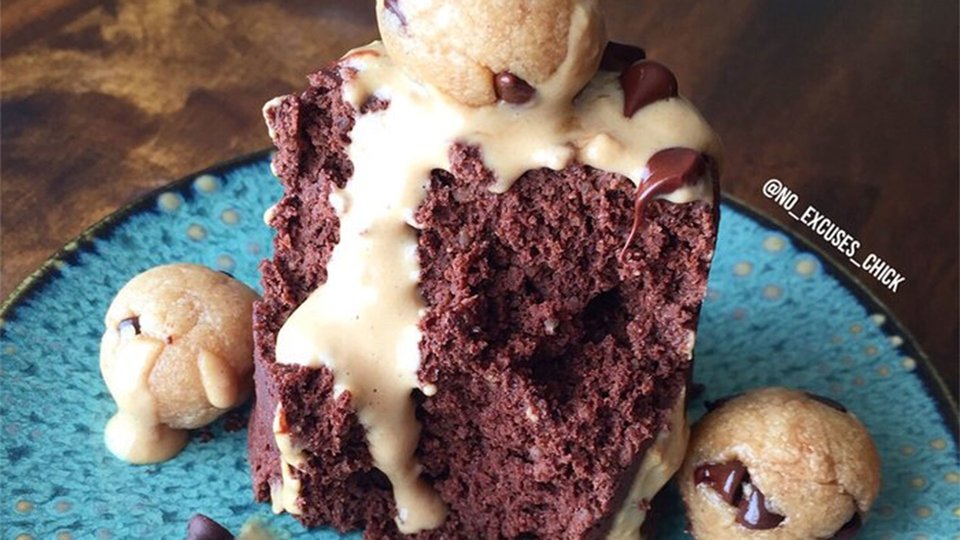 Chocolate is one of those cravings that's easy to fall victim to. When your sweet tooth calls for chocolate, whip up this easy microwavable cake. The mug cake is made with chocolate whey isolate, almond flour, unsweetened cocoa powder, egg whites, and unsweetened applesauce for added moisture. I chose almond flour to keep the cake moist, but you can also try a gluten-free baking blend, oat flour, or wheat flour (basically anything except coconut flour). Feel free to substitute nonfat plain Greek yogurt or pumpkin puree for the applesauce! Feeling extra indulgent? Use straight up butter or coconut oil.
Brownie Ingredients
15 g chocolate protein powder
2 tbsp almond flour
2 tbsp cocoa powder, unsweetened
1½ tbsp powdered Stevia
2 tbsp unsweetened applesauce
3 tbsp liquid egg whites
¼ tsp vanilla extract
1 dash table salt
Topping Ingredients
1 scoop(s) vanilla whey protein powder
2 tbsp coconut flour
2 tbsp water
1 tbsp natural peanut butter
1½ tsp splenda, brown sugar blend
1½ tsp powdered Stevia
⅛ tsp vanilla extract
⅛ tsp butter extract
⅛ tsp table salt
1 tbsp semisweet chocolate chips
Directions
Combine all brownie ingredients in a mixing bowl, stirring until smooth.
Lightly spray the inside of a large coffee mug with cooking spray, and pour in the batter.
Microwave on high for 1-1/2 minutes, or until cooked through.
Dump your cake on a plate to cool while you prepare your topping.
Combine all topping ingredients except chocolate chips and mix until a dough is formed.
Fold in chocolate chips and roll into six even-sized balls.
If desired, break each ball in half to make six mini balls (I used four mini balls to top my mug cake)!