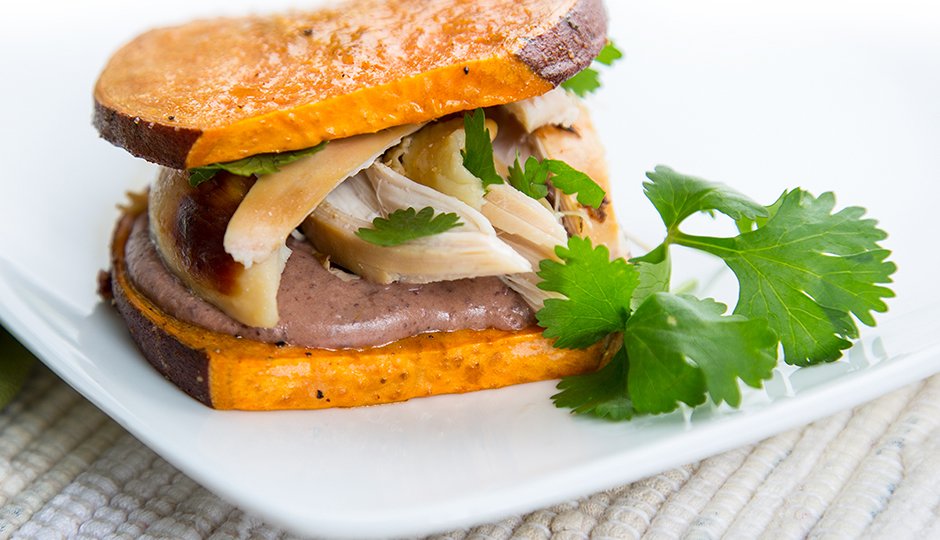 The combo of smoky black beans and protein-packed chicken make this sweet potato stack a healthy option for lunch or dinner. Plus, using sweet potato as a bread substitute provides a nutritional upgrade.
Ingredients
2 sweet potato
1½ tbsp olive oil
1 cup black beans, drained and rinsed
⅓ cup nonfat plain Greek yogurt
1 tbsp tomato paste
1 pepper chipotle peppers in adobo sauce
2 tsp lime juice
1 tsp garlic powder
½ tsp cumin
2 cup chicken breast, shredded
¼ cup cilantro
salt and pepper to taste
Directions
Preheat oven to 400 degrees F.
Cut ends off sweet potatoes, then cut lengthwise into 1/4-inch slices.
Line a baking sheet with parchment paper and arrange slices in a single layer.
Brush slices with 1 teaspoon olive oil and season with salt and pepper.
Roast for 10 minutes, flip potato slices, brush with 1 teaspoon olive oil, and heat for another 10 minutes or until fork tender.
To make the black bean spread, place beans, yogurt, 1 tablespoon oil, tomato paste, chipotle chili pepper, lime juice, garlic powder, cumin and a couple pinches salt in a blender or food processor container, and blend until slightly chunky.
Spread bean mixture on sweet potato toast and top with chicken and cilantro.