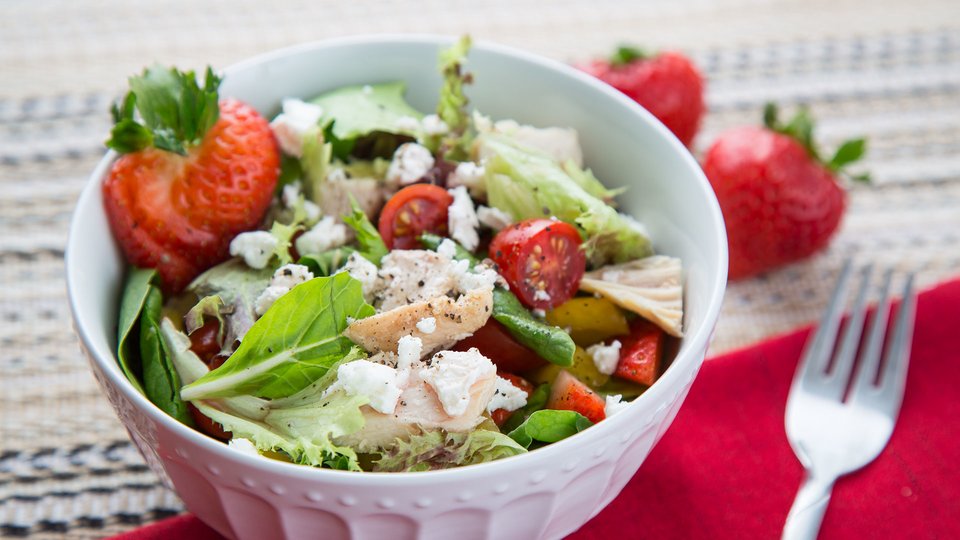 Meaty chicken, sweet strawberries, velvety goat cheese—teamed up with the bitter crunch of cacao nibs to deliver a festival of flavors and textures. Gently poaching the chicken in water keeps the meat deliciously moist.
Salad Ingredients Ingredients
12 oz chicken breast
½ tsp salt
4 1 cup salad greens
1½ cup strawberries
1½ cup cherry tomatoes
1 whole yellow pepper, cut into strips
2 whole green onion, chopped
2 tbsp goat cheese
Dressing Ingredients Ingredients
2½ tbsp olive oil
1½ tbsp red wine vinegar
1 tsp garlic, minced
⅛ tsp, ground black pepper
⅛ tsp salt
3 tbsp cacao nibs
Directions
Place chicken and 1/2 teaspoon salt in a large saucepan. Add enough water to completely cover chicken by at least 1 inch.
Bring water to a very slight simmer with just a few bubbles breaking the surface. Cook the chicken, partially covered, for 20 minutes, or until meat is cooked through and an instant-read thermometer inserted into the thickest part of the breast registers 165 degrees F. Adjust heat as necessary during cooking to maintain the slight simmer.
As the chicken cooks, skim off any foam that forms on the surface of the water.
Remove chicken from pan when cool enough to handle. Slice the meat and set aside.
Divide salad greens, chicken, strawberries, tomatoes, bell pepper, green onion and goat cheese among serving plates.
For dressing: In a bowl, whisk together olive oil, vinegar, garlic, black pepper, and 1/8 teaspoon salt. Stir in cacao nibs. Drizzle dressing over salad.