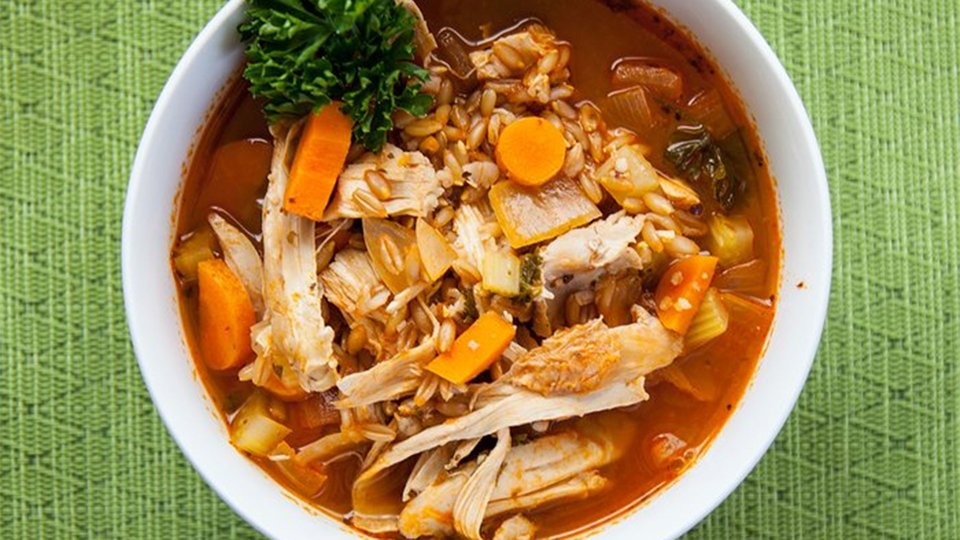 This Italian-inspired soup will bowl you over with big-time flavor and plenty of nutritional highlights, including a payload of muscle-building protein and hunger-fighting fiber. It's proof that an awesome soup need not be an all-day kitchen project. The grain of choice, farro, is an ancient Egyptian grain that eventually made its way to Italy and became a popular pasta alternative. Although farro softens when cooked, it still retains a crunch. If farro isn't available, this soup can be made with quinoa or rice.
Ingredients
1 tbsp canola oil
1 onion, finely diced
3 medium carrots, chopped
½ tsp table salt
2 stalk celery, finely diced
2 clove garlic, minced
1 tbsp tomato paste
2 tsp italian seasoning
1 cup white wine
4 cup low-sodium chicken broth
¾ cup farro
2 cup chicken, rotisserie, chopped
1 tbsp lemon juice
⅓ cup flat-leaf parsley
Directions
Heat the oil in a large saucepan over medium heat. Add the onion, carrots, and salt; sauté for 6 minutes. Add the celery and garlic to pan, and cook for an additional 2 minutes. Place the tomato paste, Italian seasoning, and a pinch of black pepper in the pan, and heat for 30 seconds.
Add the wine to the pan, bring it to a boil, and let it cook for 3 minutes. Place the broth and farro in the pan. Return the mixture to a boil, reduce the heat to medium-low, and simmer covered until the farro is tender, about 20 minutes. Stir in the chicken and lemon juice, and heat through. Add more broth if needed. Serve garnished with parsley.