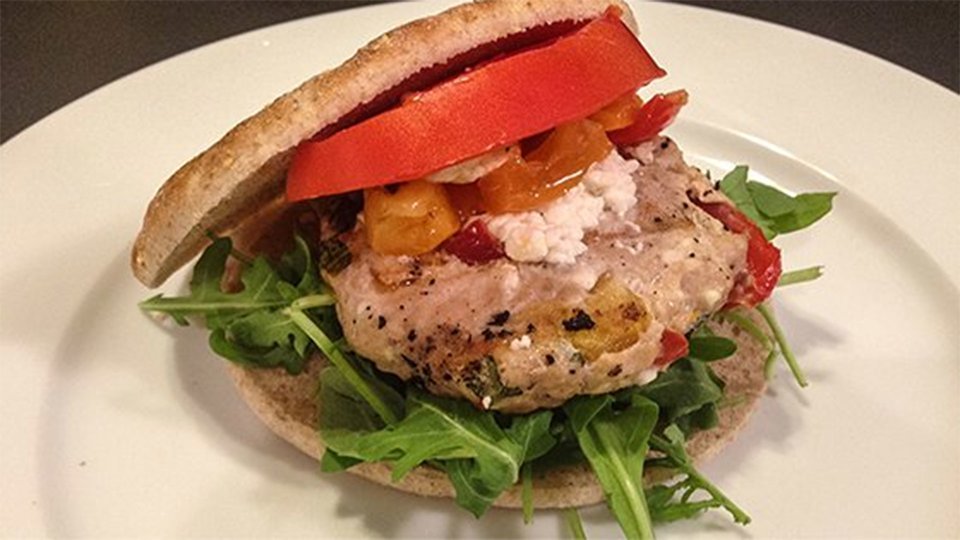 Chicken is a great source of lean, high-quality protein. Add in roasted red pepper, feta cheese, and arugula, and you've got a meal that's not only high in protein, potassium, and antioxidants, but also offers a mouthful of savory Mediterranean flavors.
Ingredients
1 lb ground chicken
½ cup reduced-fat feta cheese
¼ cup red pepper, roasted, thinly sliced
1 tomatoes, sliced
¼ cup fresh basil leaves
salt and pepper to taste
8 slice whole-wheat sandwich thins
Directions
Heat grill.
In a bowl, mix 1 lb. ground chicken with feta cheese, chopped basil, roasted bell pepper, salt and pepper.
Form 4 small burgers, approximately 4 oz. apiece.
Cook thoroughly on grill, about 10 minutes each side.
Place on sandwich thins and top with sliced tomato, feta, roasted red bell pepper, and arugula.