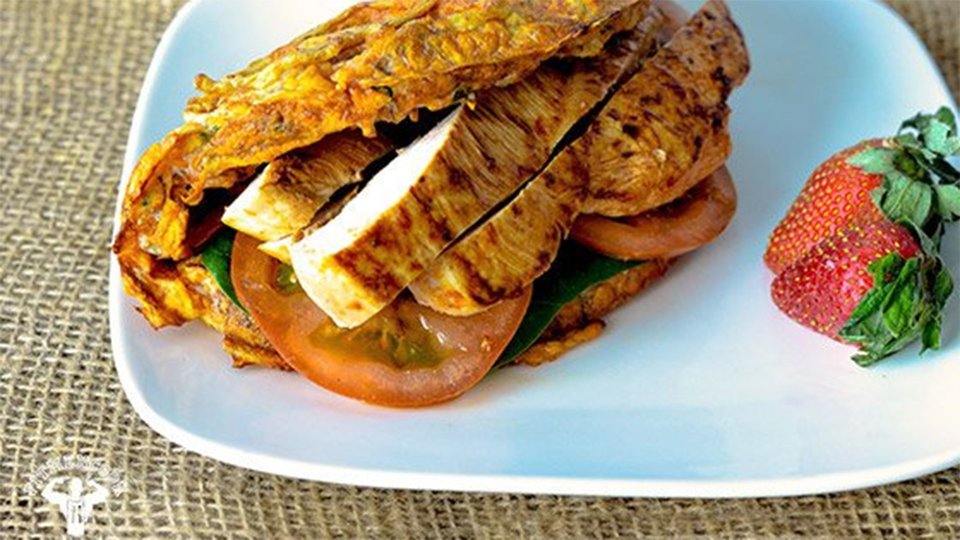 Chicken and waffles: always delicious, not always nutritious. Prove that you can have it both ways with this muscle-making recipe!
Waffle Ingredients
200 g sweet potato
3 egg whites
¼ cup green onion, chopped
1 tsp cumin
1 tsp onion powder
1 tsp garlic powder
salt and pepper to taste
Chicken Breast Ingredients
Sandwich topping Ingredients
1 tbsp nonfat plain Greek yogurt
¼ cup spinach
3 slice, thin/small tomatoes
Directions
Grate a raw sweet potato into a bowl.
Add three egg whites and seasonings to the bowl. Mix with a fork.
Set your waffle iron on medium-high heat and spray with coconut oil to prevent the waffle from sticking.
Pour the batter onto the waffle iron. Spread evenly.
Cook for five minutes or until your waffle iron indicates the waffle is cooked.
While the waffle is cooking, season chicken breast (garlic, cumin, paprika, sea salt, and pepper to taste) and cook in a skillet.
Build your sandwich wrap.
Eat!