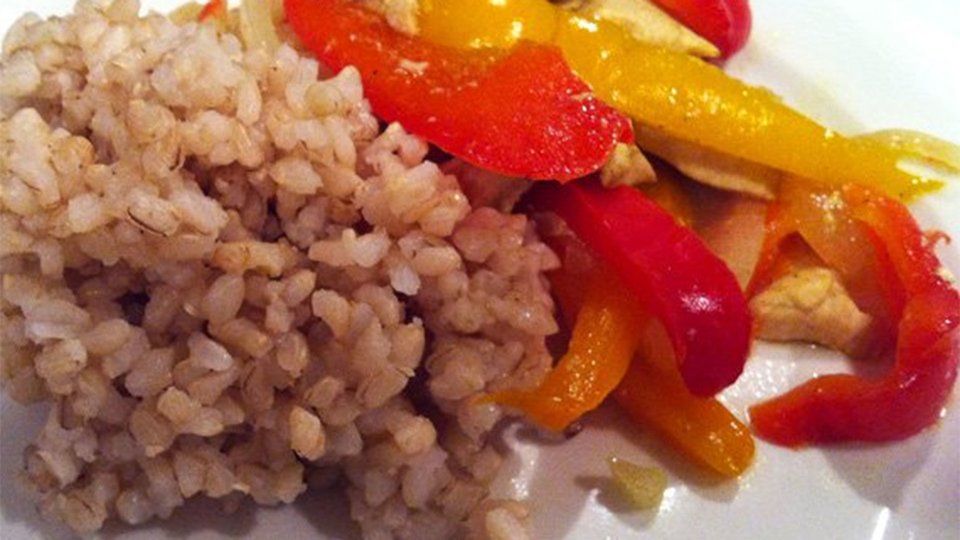 This recipe gives you some of the flavors of your favorite takeout, but without all the fat, salt, and dough (both literal and metaphorical). This takes about 20 minutes to cook, less if you cook the rice ahead, and will cost a whopping $6 or so for two big servings.
Ingredients
12 oz chicken breast, cut into 1/2-inch strips
1 tsp olive oil
1 clove garlic, minced
1 cup brown rice
1 red bell pepper, sliced
1 onion, sliced
½ cup low-sodium chicken broth
1 tsp cornstarch
1 tsp curry powder
1 tsp table salt
½ tsp, ground black pepper
Directions
Prepare brown rice in the microwave per package instructions, adding 1/2 teaspoon salt before cooking.
Meanwhile, heat olive oil in a large heavy skillet over medium-high heat. Once hot, add the chicken breast and season with 1/2 teaspoon salt and the black pepper. Sauté chicken, stirring occasionally, for five minutes.
Add onion, red pepper, garlic and curry powder and cook for another five minutes.
Combine chicken broth and cornstarch in a covered plastic container, shake well and add all at once to skillet. Cook, stirring constantly, for about two minutes or until smooth and thickened.
To serve, spoon 1 cup cooked rice onto a plate and top with half of the chicken and peppers.