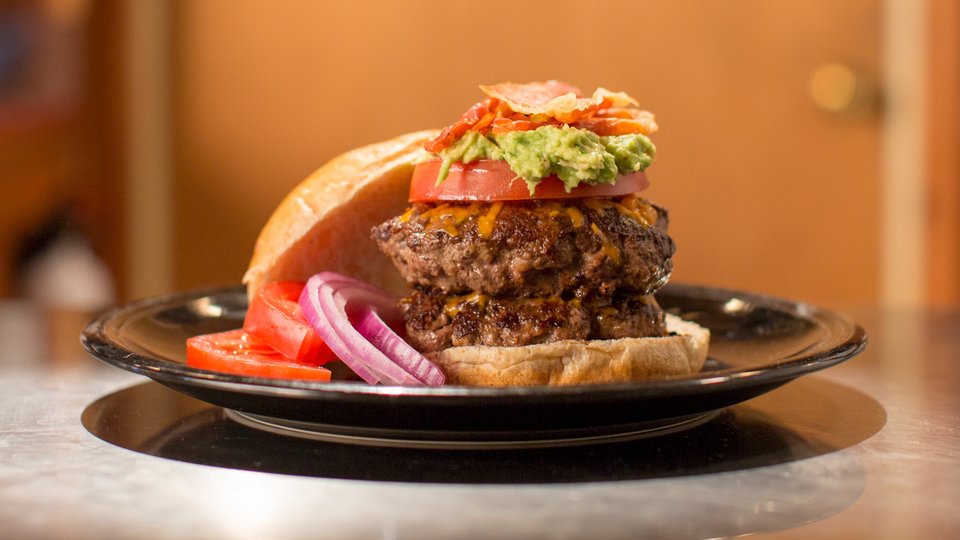 Welcome to Bodybuilding.com, home of the Gains Burger. We've got your order hot and ready to go.
Ingredients
1½ lb lean ground beef
1 egg
1 tsp garlic powder
1 tsp cayenne pepper
1 tsp, ground black pepper
1 avocado
2 tbsp lime juice
1 serving whole-wheat hamburger buns
1 tsp cilantro
1 pinch sea salt
1 oz reduced fat cheddar cheese, shredded
4 slice, thick/large (1/2" thick) tomatoes
4 slice, thin onions
1 oz prosciutto
Directions
Beat the egg, then mix it into the lean ground beef. While optional, the egg helps the patties cook up nice and evenly, and it adds an extra 6 grams of protein.
Form the meat into four 6-ounce patties (they'll be 4 ounces once cooked). Make sure they're less than half an inch thick. Because this meat is so lean, you want it to cook quickly and evenly so the burgers are uniform and juicy.
To make the avocado spread, mash the avocado with a sprinkle of salt, a bit of red and black pepper, a squeeze of lime, and a couple sprigs of cilantro until the desired consistency is reached.
Place the burgers in a skillet on medium-high heat, seasoning with salt and pepper to taste. Insider tip: Use your finger to place a "dimple" in each patty. This will allow them to cook evenly and stay flat.
Once your patties have cooked on one side, flip them over, and sprinkle them with cheddar. Add a bit of water to the pot and cover it—this will create steam to melt the cheese.
Place both burgers on a bun, and top them with tomato and avocado spread. Add baked prosciutto and red onion if desired.