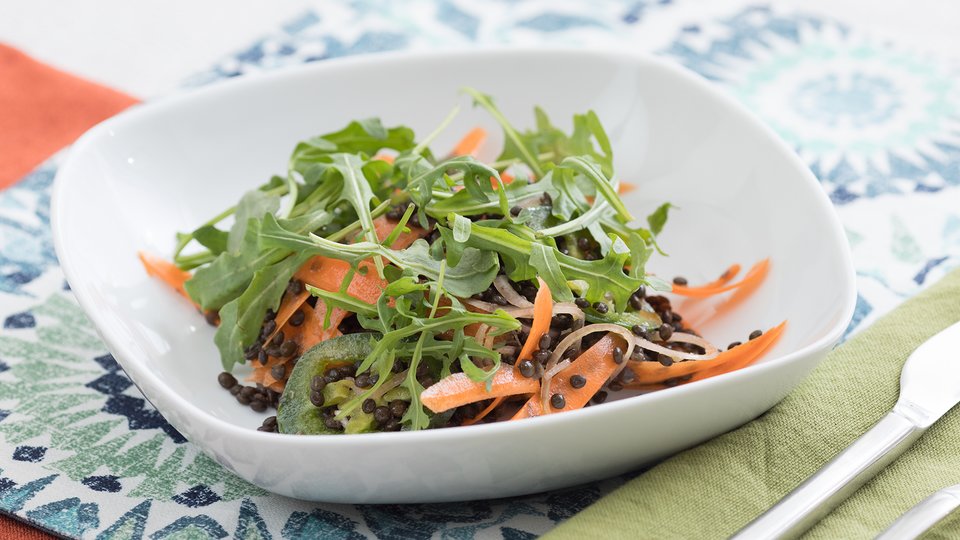 If you like rich and spicy, you're going to love this tasty vegetarian dish. The fresh, bold flavors of shallots, serrano chili, and harissa paste pair perfectly with the sweet carrots and peppery arugula. Served with hearty lentils for extra fiber and protein, this satisfying meal is completely vegan on its own, but you can add a hard-boiled egg or left-over cooked chicken for extra protein.
Ingredients
2 medium carrots, sliced
2 cup cooked lentils
½ shallot, finely chopped
1 serrano chili
½ lemon juice
2 tsp harissa paste
2 tbsp olive oil
1 cup arugula, raw
Directions
Peel the carrots, then, using the peeler, continue to peel away long, thin strips of carrot. Add carrot strips to the cooked lentils.
Combine the shallot, serrano, lemon, harissa, and olive oil in a small bowl. Pour over the lentils and carrots. Top with arugula and drizzle additional olive oil over the top.