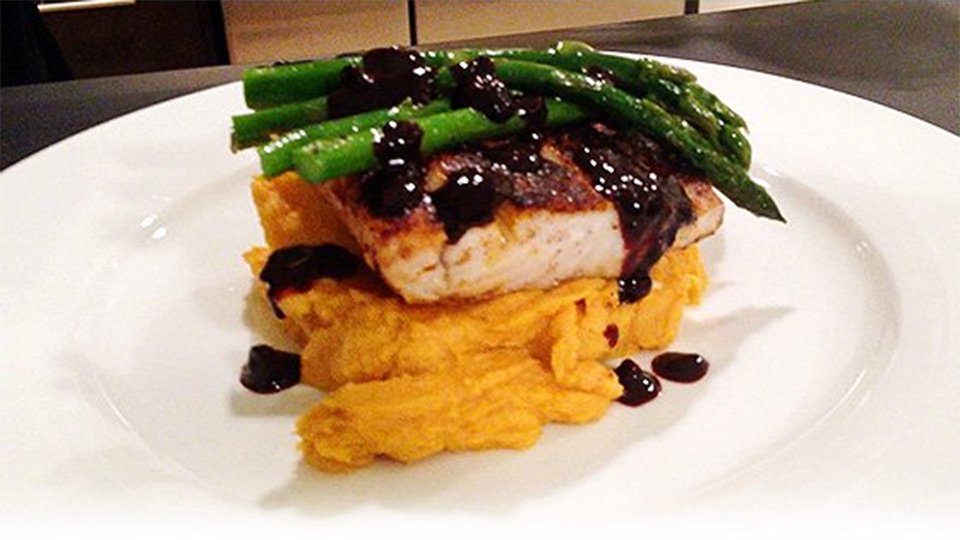 Tilapia, sweet potato, and asparagus make a perfect trio for people trying to lean out. If you're tired of the usual plain recipe, try this twist. It will make you feel like you are dining at fancy restaurant?without all the butter and added calories, of course. This recipe adds flavor and it presents a new way to assemble the usual ingredients. Impress your loved one with this home-cooked dinner for two!
Ingredients
2 fillet tilapia
1 sweet potato, peeled
10 asparagus spears
½ tbsp coconut oil
1 tbsp lemon juice
2 cup balsamic vinegar
½ cup blackberries
1 tsp orange zest
1 tsp lemon zest
1 g almond milk
1 tsp paprika
1 tsp cayenne pepper
1 tsp ground ginger
1 tsp coriander
1 tsp chili powder
1 tsp garlic powder
1 tsp onion powder
1 salt and pepper to taste
1 to taste powdered Stevia
Directions
For sauce: Place blackberries and balsamic vinegar in a small sauce pan.
Bring to a boil for 10 minutes.
Reduce to low heat and let simmer for another 10 minutes, until half of liquid is cooked off and it coats the back of a spoon.
Add lemon zest and Stevia to taste.
For fish: Spray another pan with non-stick cooking spray and heat to medium high.
Season tilapia filets evenly with paprika, cayenne pepper, ginger, coriander, chili powder, garlic powder, and onion powder.
Cook each side 3-4 minutes, or until cooked through.
For sweet potato puree: Place peeled baked sweet potato, orange zest, cinnamon, salt, pepper, and almond milk in blender and blend until smooth.
For asparagus: In a separate saute pan, add coconut oil and heat to medium heat.
Add asparagus, lemon juice, salt, pepper, and 1 tbsp water.
Cover and cook for 5 minutes.
Sprinkle 1/2 tbsp Stevia on top.
Note: To serve, spoon sweet potato puree between two plates, top with fish, 4 or 5 asparagus spears, and drizzle 1 tsp balsamic glaze over the top.