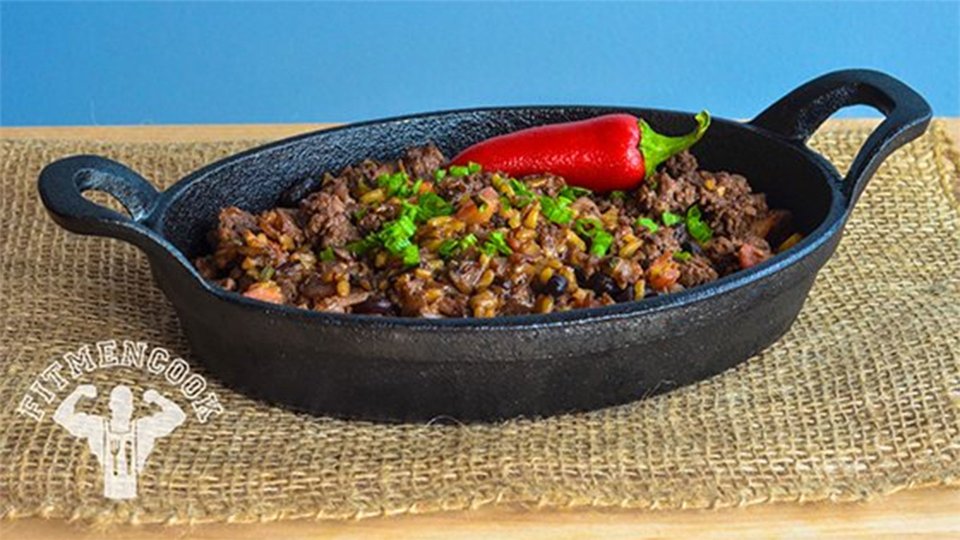 Fire up that oven and break out your cast-iron skillet like a true alpha male. This recipe takes a Southern classic and turns it into a muscle-building meal like none other.
Ingredients
6 oz ground venison
½ cup low-sodium black beans
½ cup brown and wild rice mix
⅓ cup red onion, sliced
¼ cup, chopped red bell pepper
1 tbsp garlic, minced
1 tbsp green onion, chopped
Directions
Seasonings (to taste): Pinch of sea salt, pepper, cumin, paprika.
Set oven to 405 degrees.
Place a cast iron skillet on medium heat and lightly spray with coconut oil. Toss in red onions and garlic to saute.
Season venison with sea salt (pinch), pepper, cumin, and paprika. Add to the skillet. Chop the meat finely with a spatula as it cooks.
When the meat is nearly 85 percent cooked, add black beans (with a little juice), cooked instant rice, and red peppers. Mix with a spatula.
Remove the skillet from the heat and place it in the oven.
Bake in the oven for 8-10 minutes. Remove it from the oven and top with green onions.