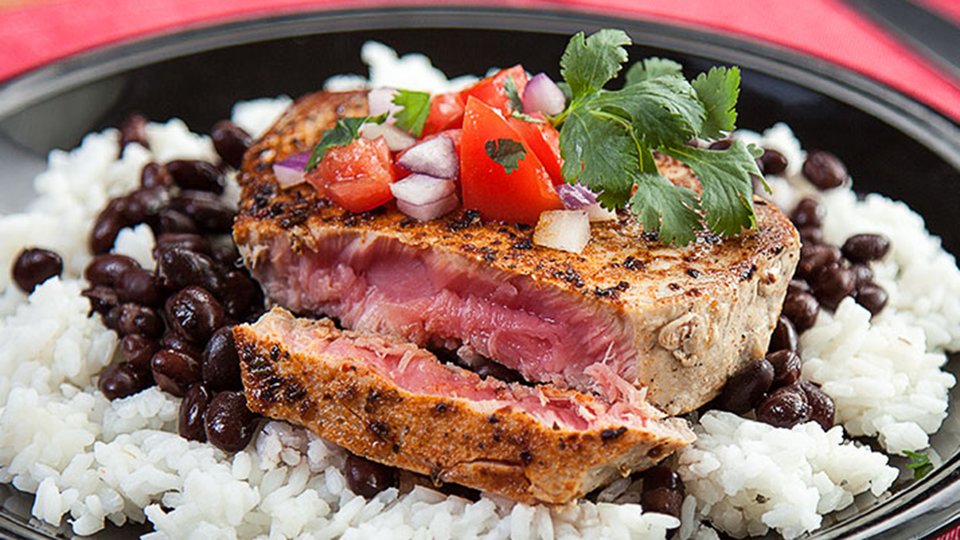 Sticking to your Lean Body Meal Plan is easy with this cajun tuna with black beans recipe.
Ingredients
1 cup white Rice
6 oz bluefin tuna
1 tbsp olive oil
1 whole tomato, finely diced
¼ whole onion, sliced
1 tsp cilantro
1 16 oz can black beans, drained and rinsed
Directions
Pull the rice out of the fridge and divide onto 2 plates. Set aside.
Pour the beans into a saucepan and warm.
Sprinkle each side of the tuna with Cajun seasoning. Drizzle a small amount of oil into the skillet and heat oil until very hot. Add the tuna and sear it about 2 min on each side. Do not overcook! The tuna should still be pink on the inside.
While the tuna is cooking, heat the rice in the microwave.
As soon as the tuna is cooked, remove it from the heat. Place the serving of beans on top of the rice, top with a piece of tuna, and garnish with the tomato, onion, and cilantro.