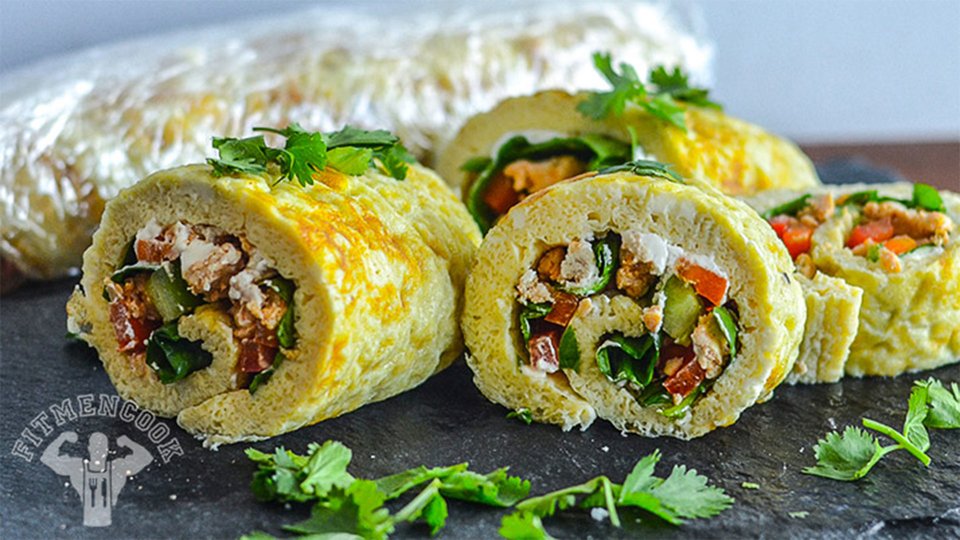 Who needs a burrito made of enriched white flour when you can use protein-rich eggs as the vehicle for your breakfast sandwich? Make your roll-ups a sit-down meal, or take your omelet to go with this protein-packed recipe.
Ingredients
1 whole egg
4 egg whites
3 oz ground 99% fat-free turkey breast
1 cup spinach
⅓ cup diced red bell pepper
2 tbsp goat cheese
Directions
Season and cook lean ground turkey in skillet, drain.
In a separate skillet, cook whole egg and egg whites.
Add goat cheese, spinach, bell peppers, and ground turkey.
Roll mixture and wrap in plastic wrap.
Refrigerate, and heat up when ready to eat.
Tip: I recommend prepping no more than three of these at a time so they can be as fresh as possible. These are perfect for bodybuilders or people following strict diets where the portions must be exact.