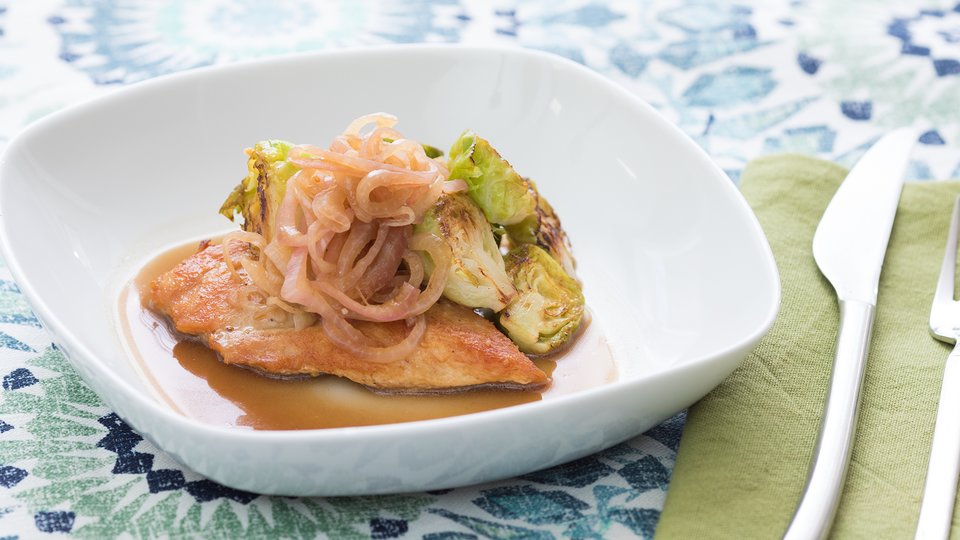 Braising is a lot easier than you think! This simple and satisfying meal is a classic chicken and vegetable combo you'll come back to again and again. The sweetness of the shallots and sherry vinegar mellows the bitter Brussels sprouts and infuses the chicken with depth and flavor. Add a side of cooked rice or a baked potato for extra carbohydrates.
Ingredients
4 shallots
2 piece chicken breast
½ lb brussels sprouts
¼ cup sherry vinegar
¼ cup vegetable stock
1 spray olive oil
1 pinch table salt
Directions
Slice the shallots into reasonably thick, 1/2-inch slices, and gently sweat in a pan on low heat with a bit of olive oil.
Once the shallots begin to soften, add the sherry vinegar and vegetable stock. Continue to cook on very low heat.
Cut the Brussels sprouts in half, and steam for approximately 5 minutes.
Season the chicken breasts well with salt. Heat a little bit of olive oil in a cast iron skillet. Add the chicken and cook for about 5-6 minutes per side.
When the chicken is nearly done, add the braised shallots to the pan and finish cooking chicken through.
Serve chicken with Brussels sprouts, and spoon the shallots over the chicken, using some of the braising liquid as a sauce.