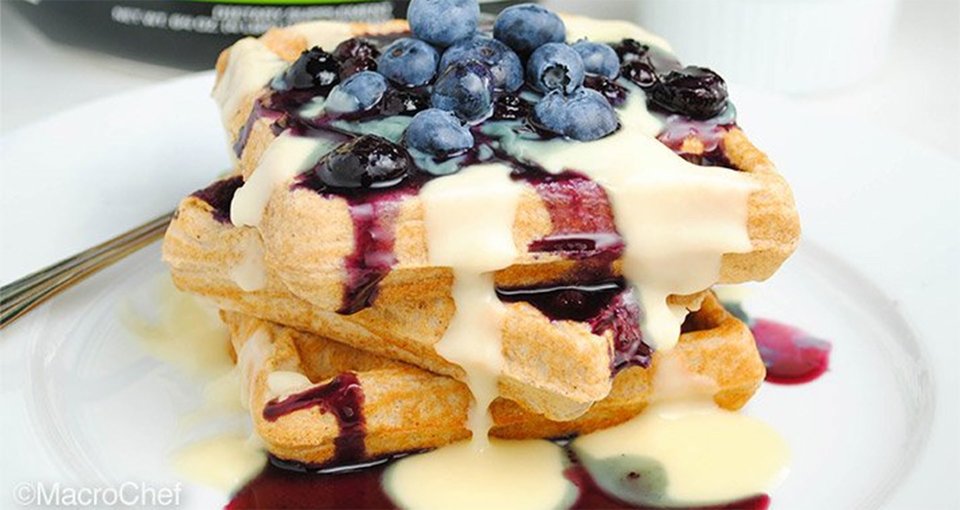 Sometimes it seems that the less I plan a recipe, the better it turns out. Since I was busy doing school work for most of the day, I made these waffles for dinner on a whim. You can never go wrong with waffles for dinner—or any breakfast food for dinner, for that matter. The waffles themselves are pretty simple. I used MusclePharm Vanilla Combat Powder, then added about half a cup of fresh blueberries. One of my favorite things to do lately with frozen fruit is to heat it up in a pan with some maple syrup. In this case, I just let it simmer a bit, and it magically transformed into a delicious blueberry syrup. For the cheesecake sauce, I used sugar-free cheesecake pudding mix and mixed it with water until it was a sauce. I love putting this on pancakes, waffles, or pretty much anything. It makes it taste like you are eating cheesecake!
Waffle Ingredients
½ cup whole-wheat flour
1 scoop MusclePharm Combat Power, Vanilla
1 tsp granular erythritol
to taste cinnamon
½ tsp baking powder
¼ cup skim milk
1 egg
¼ cup nonfat plain Greek yogurt
¼ tsp vanilla extract
½ cup blueberries
Blueberry Syrup Ingredients
¼ cup frozen blueberries
2 tbsp Walden Farms Syrup
to taste powdered Stevia
Cheesecake Ingredients
¼ cup sugar-free cheesecake instant pudding mix
Directions
Preheat Belgian waffle maker to medium heat. Mix flour, protein powder, Stevia, cinnamon, and baking powder. In a separate bowl, add egg, milk, Greek yogurt, and vanilla extract. Mix well.
Combine wet and dry ingredients. Gently mix together until combined. Spray waffle iron with nonstick spray.
Pour batter evenly into waffle iron to make 3 Belgian waffles. Cook for about 4 minutes or until golden brown.
Spray a small pan with nonstick spray. Add blueberries and maple syrup. Let simmer on medium/high heat for about 5 minutes. Take off heat and let cool.
Mix cheesecake pudding mix with water until you get a thick sauce consistency.
Top waffles with blueberry syrup, cheesecake sauce, and more blueberries. Enjoy!