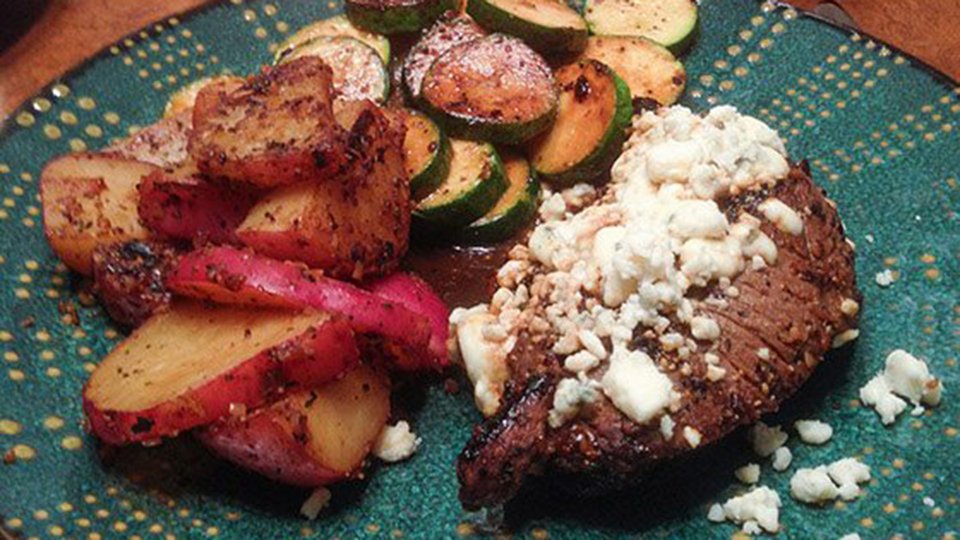 Rich and Sarah chose to make petit sirloin steaks with bleu cheese crumbles, sauteed zucchini, and garlic grilled potatoes. For dessert, Sarah made a strawberry shortbread pie. Can you really eat all this on a diet? Yes, you can. Try the recipes and check the nutrition facts.
Ingredients
8 oz sirloin steak, about 1 inch thick
½ tsp kosher salt
½ tsp, ground black pepper
½ tbsp onion flakes
¼ tsp garlic powder
⅛ cup, chopped roasted red pepper
¼ tsp, leaves thyme
¼ tsp rosemary
¼ tsp coriander
1 oz bleu cheese
Directions
Heat skillet on high; coat with cooking spray.
Rub steak with seasoning on both sides, then add to hot skillet.
Grill 3-4 minutes or until browned on the first side.
Flip steaks and top each with 1/4 cup bleu cheese.
Cook until the desired amount of doneness, about 3-4 minutes more for a medium rare steak. The bleu cheese will have melted to perfection over each steak.