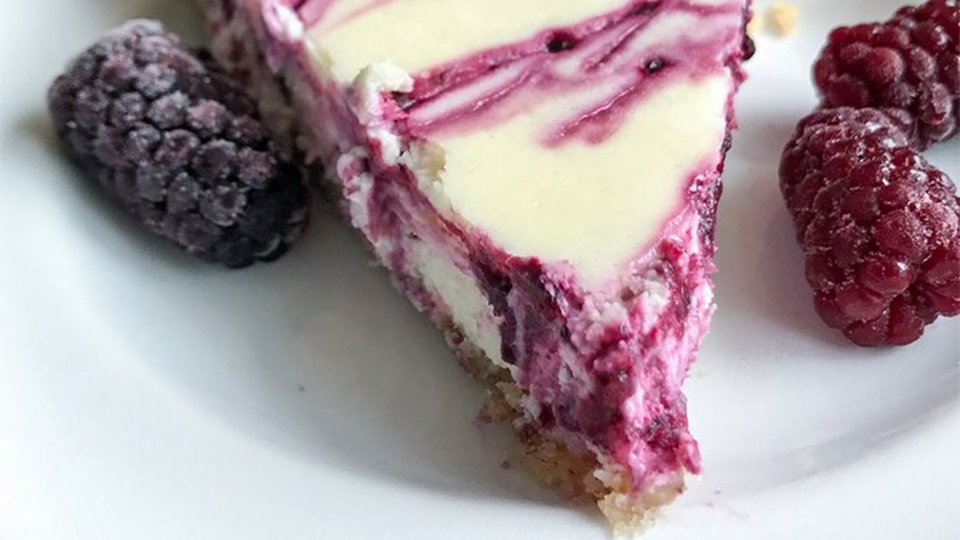 This blackberry protein cheesecake is low in carbs, fat, and sugar—but it sure doesn't taste like it! As a matter of fact, it's my husband's favorite thing I make—he swears this is just as good as Cheesecake Factory! All I can tell you is that all the "non-healthy eaters"—even the kids—gobbled it right up at our last dinner function. The flavor is lightly sweet with just a hint of tartness from the blackberries, while the texture is dense, creamy, and oh-so-dreamy!
Crust Ingredients
40 g vanilla whey protein powder
6 tbsp almond flour
6 tbsp spelt flour
1 tsp Pyure organic stevia blend
2 tbsp extra virgin coconut oil
1 large egg whites
¼ tsp table salt
Cheesecake Ingredients
1 cup fat-free cream cheese
½ cup nonfat plain Greek yogurt
¼ cup egg whites
¼ tsp vanilla extract
40 g vanilla whey protein powder
¼ cup Pyure organic stevia blend
1 cup blackberries
Directions
Preheat oven to 350 degrees F.
Combine crust ingredients to form a crumbly mixture that sticks to itself (add 1 tablespoon water if mixture is too dry).
Lightly coat an 8" or 9" pan with cooking spray, and press crust mixture into bottom.
Bake for 10 minutes and set aside.
Reduce oven temperature to 300 degrees F.
Blend together cream cheese and yogurt until smooth.
Add egg whites, protein powder, sweetener, and vanilla; blend again until smooth.
Pour cheesecake mixture into pan over baked crust.
Mash berries (thaw in microwave if frozen), and stir in sweetener to taste.
Drop berry mixture over cheesecake one tablespoon at a time, then swirl through with a knife.
Bake for 25-35 minutes until center is set. Cracking indicates overbaking.
Let cheesecake cool at room temperature for 10-15 minutes, then chill in fridge for a minimum of 3 hours or overnight.
Cut into eight pieces and enjoy!
Note: Store the cheesecake in the fridge for up to one week.