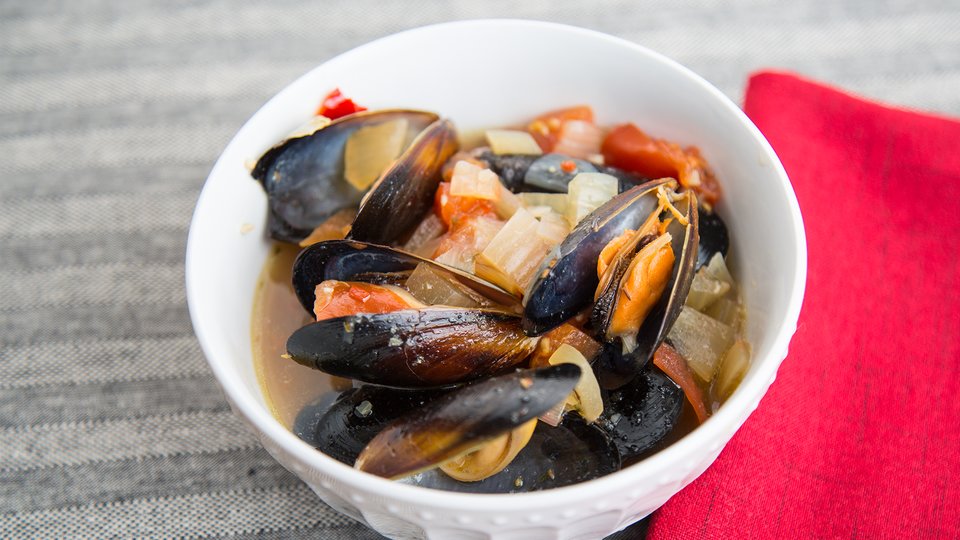 Cooking mussels requires little more than steaming them in some liquid until they pop open. How easy is that? In this recipe, beer serves as a tasty alternative to water or wine. Serve with some crusty bread for sopping up the briny liquid, and you've just created a restaurant-worthy dish for a fraction of the price (and no tip required).
Ingredients
2 tsp grapeseed oil
1 small onion, chopped
1¼ tsp table salt
2 clove garlic, minced
1 cup dark beer
2 pound mussels
2 medium whole (2-3/5" dia) tomatoes
½ lemon yields lemon juice
½ tsp, ground thyme
¼ tsp red chili flakes
¼ tsp, ground black pepper
⅓ cup flat-leaf parsley
Directions
Heat oil in a large saucepan over medium heat. Add onion and salt; cook until onion is softened and beginning to darken, about 5 minutes. Add garlic and heat 1 minute.
Place beer, tomatoes, lemon juice, thyme, chili flakes, and black pepper in pan. Bring to a boil, then reduce heat to medium-low and simmer uncovered for 10 minutes.
Add mussels to pan, cover, raise heat to medium and cook for 5 minutes, or until the shells have popped open. Discard any mussels that have not opened. Stir in parsley.
Serve mussels and broth in a bowl with lots of fresh bread on hand.