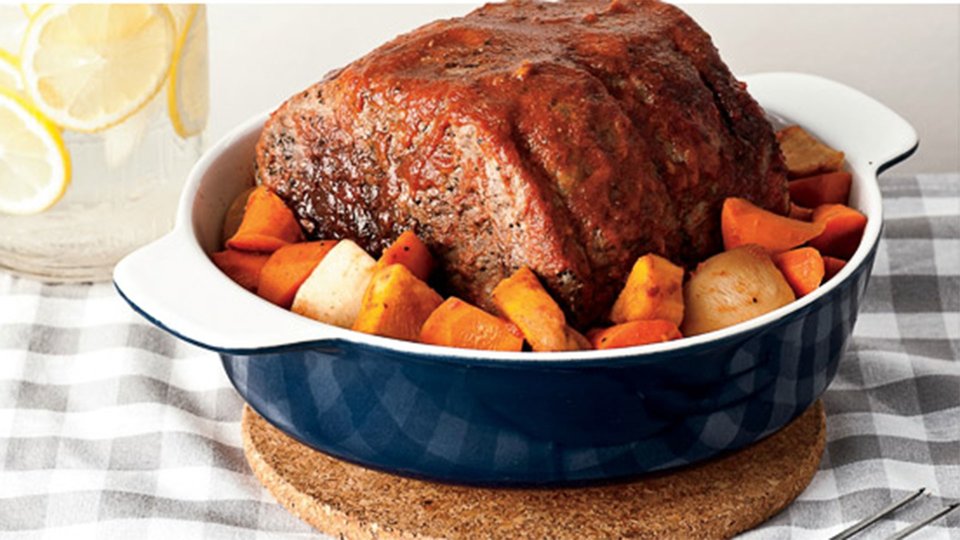 Lower-cost cuts of beef are well suited to slow cookers, since they require longer cooking times at low temperatures, which also allows the flavors to blend better. As for nutrition, root vegetables contain beta-carotene and other carotenoids, which are the nutrients that give orange produce its bright hue and serve as the raw materials for the body's production of vitamin A. (If you're watching your carbs, you can omit the veggies).
Ingredients
1 whole onion, finely diced
2 sweet potato, cut into cubes
2 carrot, shredded
2 turnips, peeled and chopped
3 lb beef, bottom-round
1 tsp salt
1 dash black pepper
3 tbsp flour
15 oz tomato sauce, canned
⅔ cup brown sugar
2 tsp chili powder
1 tsp cumin
1 tsp ground mustard
Directions
Arrange onion, potatoes, carrots, and turnips in bottom of slow cooker.
Season beef with salt and black pepper. Rub flour on the beef. Place the beef on top of the vegetables.
In a medium bowl, combine the tomato sauce, brown sugar, chili powder, cumin, and mustard powder, stirring well. Pour the mixture over the beef.
Cover and cook on low for 12 hours or on high for 8 hours.