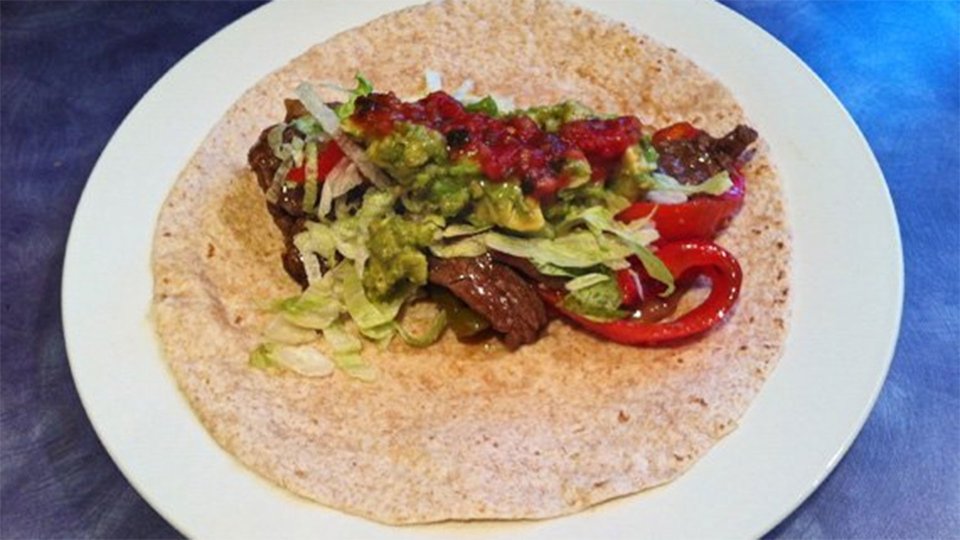 Fitness nutrition doesn't have to be the same ol' boiled chicken breasts and broccoli. I can help you turn plain into amazing and delicious.
Ingredients
16 oz beef tenderloin
1 tsp olive oil
1 onion, diced
1 green bell pepper, sliced
1 red bell pepper, sliced
⅓ cup low-sodium chicken broth
¼ cup lime juice
2 tbsp light soy sauce
2 tsp honey
2 tsp cornstarch
1 tsp garlic, minced
½ tsp cumin
8 whole whole-wheat tortilla (10-inch)
2 cup lettuce
1 cup salsa
1 cup guacamole
Directions
Cook the beef strips in a large non-stick skillet. Set aside.
In the same skillet over medium heat, add the onions, green peppers, and red peppers. Cook, stirring occasionally, for 7-8 minutes or until tender.
In a small bowl, combine the broth, lime juice, soy sauce, honey, cornstarch, garlic, and cumin; mix well to dissolve the cornstarch.
Add broth mixture to the skillet and stir constantly for 1 to 2 minutes, or until slightly thickened.
Add the beef and stir to combine.
Microwave the tortillas for 1 minute, or until warm.
Divide the beef mixture and lettuce among the tortillas. Top with the guacamole and salsa.
Roll up the tortillas to enclose the filling. Scarf!