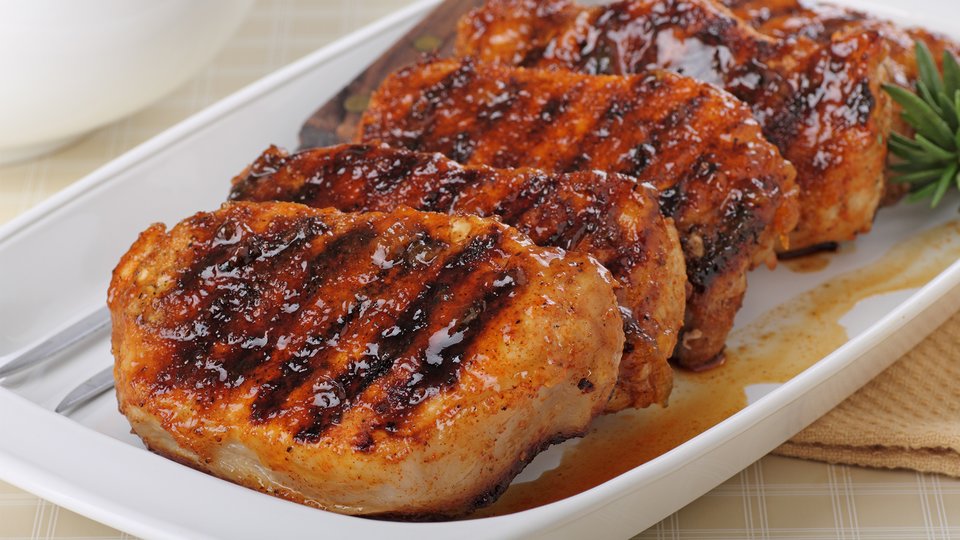 Lean pork chops make a nice change from eating chicken, and the leanest cuts—from the loin—are leaner than chicken thighs, so don't feel guilty about eating pork chops from time to time. As with all meats, be sure to trim any excess fat before cooking. These barbecued pork chops are tangy and delicious.
Ingredients
4 chop without refuse (yield from 1 raw chop, with refuse, weighing 259g) lean pork chops
2 tbsp worcestershire sauce
4 tbsp low-sugar ketchup
1 tbsp chili powder
1 tbsp cider vinegar
1 tbsp brown sugar
Directions
Mix cider vinegar, brown sugar, Worcestershire sauce, ketchup, and chili powder in a small bowl. Place pork chops in a large resealable plastic bag.
Marinades can tenderize the surface of the meat only to about 1/4 inch. That's why it's important to make sure the marinade covers the entire surface of your meat. It also helps to score the meat (cut into the surface about 1/4 inch deep with a sharp knife in several places) before coating it with marinade.
Pour marinade into bag and cover chops with it.
Marinate for at least 4-6 hours in the refrigerator.
Preheat grill or broiler.
Spray grill with high-temperature nonstick cooking spray before heating; or spray broiler rack while broiler is heating.
Place marinated chops on grill or broiler and cook until done, about 5 minutes per side.