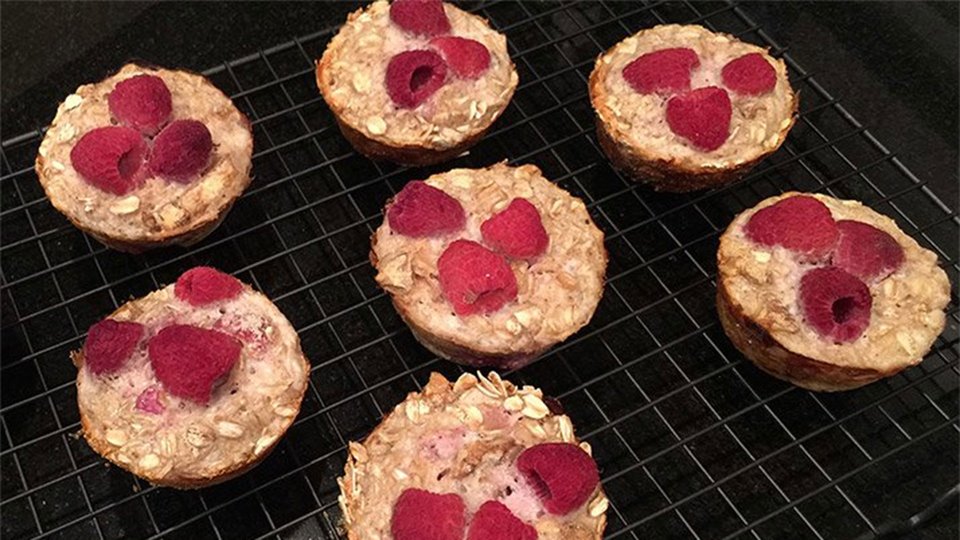 This recipe utilizes in-season raspberries to create a portable whole grain you can't live without. Sure, they can be eaten at any time of the day, but they also travel well, making them a perfect addition to your picnic basket. There are plenty of ways you can enjoy these tasty muffins. Eat them at room temperature, or heat them up in the microwave for 10 seconds. If you heat them at home, transport them wrapped in foil to maintain warmth. Consider cooking it in bulk and storing in the fridge for the week. They also keep very well in the freezer!
Dry Ingredients
1 cup rolled oats
1½ scoop(s) vanilla whey protein powder
⅓ cup pecans, chopped
½ tsp baking powder
½ tbsp cinnamon
½ tsp sea salt
Wet Ingredients
1 cup milk (2% fat)
½ cup nonfat plain Greek yogurt
2 tbsp liquid egg whites
3 tbsp sugar-free coconut syrup
½ tbsp extra virgin coconut oil
1 tsp vanilla extract
Additional Ingredients
2 cup raspberries
1 g coconut oil spray
Directions
Preheat oven to 350 degrees F.
Spray a 12-cup muffin tin with coconut-oil spray.
Combine all dry ingredients in bowl.
Combine all wet ingredients in a 2-cup measuring cup.
Stir wet ingredients into dry ingredients, stirring until combined.
Fold in 1 cup raspberries.
Divide batter among pans and top with remaining cup of raspberries.
Bake 25-30 minutes.