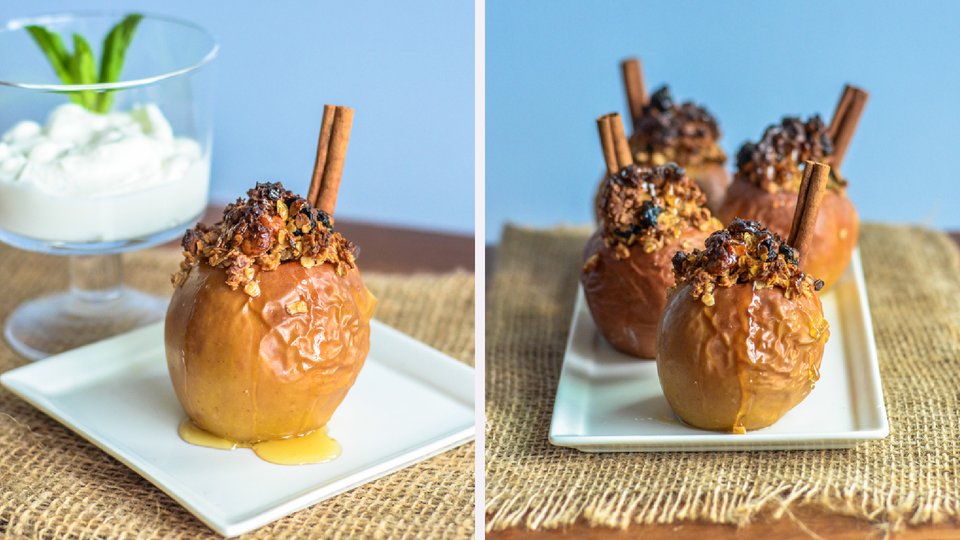 If you're like me, cakes and pies are your downfall. Just one bite of cake unleashes the beast, and you're unlikely to recover from his sweet attack. This year, resist the urge to go Cookie Monster in front of your guests without depriving yourself of an amazing dessert. Try this easy recipe for stuffed baked apples! It's an easy-to-make treat that looks like it took tons of prep. Plus, it's guaranteed to be delicious.
Ingredients
5 whole gala apples, sliced
⅔ cup plain instant oats
⅛ cup blueberries, dried
½ cup walnuts, chopped
2 tbsp extra virgin coconut oil
1 tbsp cinnamon
⅛ cup organic honey
⅛ whole lemon, cut into wedges
Directions
Set oven to 375 F.
Core your apples by using a corer or grapefruit knife. Then, take a grapefruit knife or paring knife and make a larger hole by carving out the sides. Do not go all the way through the apple.
Rub the lemon wedge along the insides of the apples to keep them from browning.
Add all of the ingredients into a bowl and mix together using a spatula. Ensure there is no dry oatmeal. If the oatmeal is still dry, add 1 tsp coconut oil.
Spoon the contents of the bowl into the hollowed-out apples. Pack it in tight and then stack some on top of the apple.
Place in the oven and bake for 20-25 minutes until the top has browned.