It's possible to complete a leg workout without a machine movement, but it's pretty darn hard. If you're working your leg muscles hard, you can get so tired you can hardly stand up. So as you're finishing up leg day, throw in a couple of machine exercises that put your leg muscles under additional stress without you having to worry so much about form or balance. 
Here are my top four leg-day machine exercises.
1. Squat Machine

About the Move: Few machines simulate the movement of an actual free-weight squat as well as the squat machine. The squat is one of the best thigh-and-glute builders and should be a staple of every leg routine. If you have a tendency to round your back with the barbell, the squat machine can help you learn proper form. So it's a good way to learn squats, as well as a good, safe way to the end your leg day when your legs are screaming at you to stop. 
Why We Like It: Standard squat machines have an inherent advantage over the Smith machine because the pathway isn't strictly limited to the vertical plane; with the squat machine, you can achieve additional horizontal movement. The shoulder padding also comes in handy, spreading the contact across a larger surface area than a Smith can. 
The larger footplate on the squat machine gives you room to use a number of foot positions to easily shift emphasis from the quads to the glutes and hamstrings. The machine is also good for intensity-boosting techniques. For example:
Paused reps at the bottom of the movement
One-and-a-halfs when you go only halfway down every other rep to get 20 peak contractions for each 10-rep set
Rest-pauses, allowing you to go quickly into and out of the start position. 
2. Hack Squat

About the Move: The hack-squat machine positions your body about halfway between a standing squat machine and a lying squat machine, supporting your body to protect your lower back. EMG analysis shows that, similar to squats, the hack machine hits your vastus lateralis and vastus intermedius. But the hack does a better job of hitting the inner thigh adductor brevis and magnus.[1] It also provides a greater range of motion around the knee joint.
Why We Like It: Like the squat machine, the hack squat's large footplate offers a wide range of foot positions. This allows you to shift the emphasis from inner to outer thighs, and from the quads to glutes and hamstrings—though the depth of the squat affects emphasis as well.
To complement your full-range training, use 1.25 times your 1RM do half squats over just the top portion of the ROM sets. Do this for 3 sets of 6 to challenge your quads.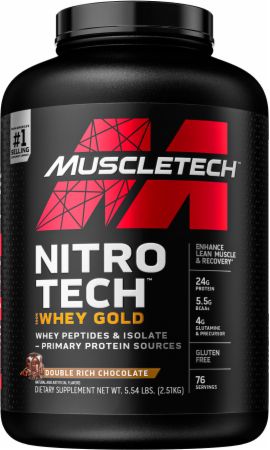 MuscleTech NITRO-TECH 100% Whey Gold
Each Scoop Serves Up 24G Of Ultra-Premium Micro-Filtered Protein. Incredible Pure Protein Powder Featuring Whey Protein Peptides And Whey Protein Isolate.
3. Leg Press

About the Move: The leg-press machine is a quad machine. By creating almost a right angle between your torso and legs, the leg press decreases the ROM around your hips, diminishing hamstrings and glute activation and putting the load right on your quads. Using a lower foot placement will increase your quad workout even more. 
Why We Like It: Once again, the machine's large footplate allows you to reposition your feet to adjust muscle-group stimulation. One of my favorite leg-press techniques is best saved for the end of the workout. Your goal is to do 4 dropsets. Start with your 10RM, do 10 reps, then remove about 20 percent of the weight (10 percent if you're more advanced) and do another 10. Keep repeating this until only a single plate remains on each side.
As with all exercises, make sure you do the leg press with the proper form. 
4. Butt Blaster
About the Move: For some lame reason, the butt-blaster machine has been pigeonholed as a "woman's exercise." But men who fall for this miss out on the opportunity to do some major glute work. Unlike the leg press, the butt-blaster machine works through a wide ROM around the hip joint while keeping your knee relatively stable. This helps to focus the movement on your glutes and upper hamstrings.
Why We Like It: It's easy to overload your glutes on the butt blaster, and since you don't have to balance a load, you can push hard to failure. In fact, post-failure techniques like dropsets are super simple to implement on a butt blaster. Try alternating legs without stopping to rest between sets. It'll add intensity and make you happy leg day is almost done. 
References